Happy Canada Day!!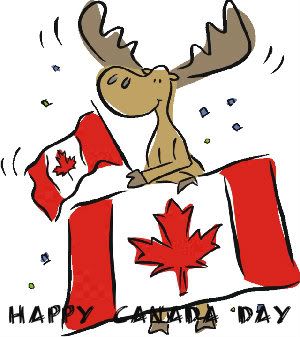 Actually Canada Day was yesterday, but we were in the U.S, visiting Hubby's family. Crazy aren't we?? We had a blast, ate until we were too full and enjoyed sleeping in, yesterday morning (nothing like waking up to the smell of bacon cooking!!!). We came home last night and we got to see an awesome fireworks display put on by Paramount Canada's Wonderland. We drove right by, so the fireworks were right over us at one point. The kids were so excited, LOL.

Hubby had the weekend off and is off again today, so we are planning on setting up the pool and just relaxing again today. The kids let us sleep in until 10am, so I'm really enjoying our summer vacation :o). Nothing planned this week, we'll just go with the flow, since Hubby is working. Maybe the kids and I will hop on the city bus and venture down to out Waterfront Park and go swimming and enjoy a picnic. Here is what I have planned for this week
Cajun soda can Chicken, Italian Sausages, foil packet broccoli and red pepper and potato salad
Summertime Spaghetti (brought over from last week) with a Tomato Mozzarella Spinach Salad
Texas Cheeseburger sliders with homemade salsa and chips (brought over from last week)
Grilled Ratatouille with Chickpeas and homemade Naan bread
Classic BBQ Chicken Drumsticks (new recipe) with leftover potato salad
beef and veggie kabobs, with grilled corn on the cob
leftovers
Head on over to
OrgJunkie.com
, for tons of other great meal plans!!