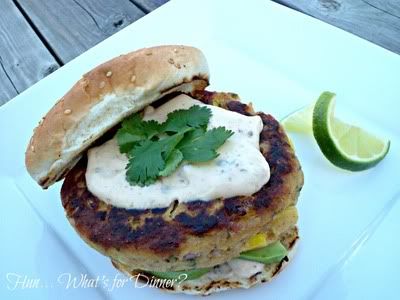 I am always intrigued by bean burger recipes I find. This particular one caught my eye, while I was browsing the Recipe Review thread, over at
Cooking for your Family
, a cooking forum I am co-group owner of. I liked this recipe because it was simple and used ingredients that we always have in the house. I also loved that I didn't have to saute the vegetables, before adding them to the bean mixture and loved the idea of the sweet corn mixed in. These were super simple to make and came together in the matter of minutes. A quick trip to the freezer and they are ready to cook up.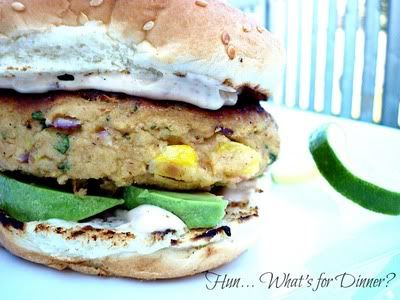 The burgers were really sensational. I made half the recipe and came away with 3 pretty nice sized burgers. I cooked one up for myself, and froze the remaining patties (between layers of parchment), for later use. The rest of the family aren't really crazy about bean burgers......
or so I thought, I came home the other night and found that both burgers had been cooked and eaten, LOL
. They are tender, with a nice crispy outer crust. The flavours mingle well with the creamy beans and sweet corn. They have just the right amount of heat and have an extra bite of heat, thanks to the Chipotle mayonnaise. I decided to top mine with some ripe avocado, that I tossed with lime juice and sprinkled with salt, and some cilantro. A perfect burgers for those meatless nights!!!
Southwestern Pinto Bean Burgers with Chipotle mayo
Adapted from Cooking for your Family via Cooking Light
printable version
1/2 cup diced onion
1/2 cup dry breadcrumbs
1/4 cup chopped cilantro
2 tablespoons minced seeded jalapeño pepper
2 tablespoons reduced-fat sour cream
1 teaspoon hot pepper sauce
1/2 teaspoon ground cumin
1/4 teaspoon freshly ground black pepper
1/8 teaspoon salt
1 large egg
1 (15-ounce) can pinto beans, drained
1 (8 3/4-ounce) can no salt-added whole-kernel corn, drained
Chipotle Mayonnaise:
1/4 cup low-fat mayonnaise
1 teaspoon canned minced chipotle chile in adobo sauce
Remaining ingredients:
1 tablespoon canola oil
4 (1 1/2-ounce) whole wheat hamburger buns, toasted
4 romaine lettuce leaves
--- To prepare burgers, combine the first 10 ingredients in a large bowl. Add pinto beans and corn; partially mash with a fork. Divide bean mixture into 4 equal portions, shaping each portion into a 3 1/2-inch patty, and refrigerate for 10 minutes.
To prepare chipotle mayonnaise, combine mayonnaise and 1 teaspoon chipotle in a small bowl; set aside. Heat canola oil in a large nonstick skillet over medium-high heat. Add patties to pan, and cook 4 minutes on each side or until thoroughly heated. Assemble burgers.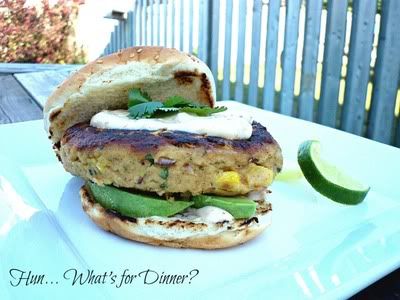 This post linked to
Hearth and Soul
See Ya in the Gumbo
Tasty Tuesday
Tuesdays at the Table
Recipe Box
What's Cooking Wednesday
Full Plate Thursday
Fit and Fabulous Friday