When we lived in Houston (about 8 yrs ago), I quickly realized that Mexican food had a definite place in that state. I loved being able to find a taco stand, and buy some authentic Mexican food. Our favorites were Tamales and anytime we would drive by a certain corner store that happened to double as a Mexican take out, we would grab some to take home. I found this recipe through Better Homes and Gardens, and I can see why they call them Texas Cheeseburgers. They have great Mexican flavors running through them. I decided to turn this recipe into sliders, since the kids are more likely to try new burgers if they are cute and tiny. I did switch up some of the flavours, by subbing some green chiles for poblano. I didn't want these to be too hot for the kids. I made up some patties for them, then added a few good shakes of hot sauce, for the rest of us.
These were super moist, tender and juicy. I loved the spicy chiles and hot sauce, paired with the subtle creamy Jack cheese. I decided to serve these on homemade scones, but they would also be good on biscuits, or even slider buns. We topped ours with nice thin sliced tomato and avocado, which I had dressed with lime juice and salt. Pickled jalapenos would have also brought a nice bite to these burgers. Super simple and super delicious!!
Texas Cheeseburger Sliders
Adapted from Better Homes and Garden
printable version
1/2 small onion, grated
1 can green chiles
2 tablespoons chili powder
1 teaspoon salt
1/2 teaspoon freshly ground black pepper
2 pounds lean ground beef
1-2 tsp hot sauce (we like Frank's), optional
8 ounces Monterey Jack cheese with jalapeno peppers or Monterey Jack cheese, shredded
slider buns, scones or biscuits
Assorted condiments such as tomato and avocado, grilled red onion
Mix the onion, chiles, chili powder, salt, and black pepper in a large mixing bowl; add ground meat and mix well. Shape mixture into 16 patties about 3/4-inch thick. Place on a tray; cover and refrigerate for 1 to 2 hours.
Place patties on the lightly oiled rack of the grill directly over medium heat. Grill for 8 to 12 minutes or until an instant-read thermometer inserted in centers registers 160 degree F, turning burgers once. Top burgers with shredded cheese during the last 1 minute of grilling.
Toast slider buns on grill rack, cut sides down, about 1 minute or until lightly toasted. Serve burgers on buns with desired assorted condiments. Makes 16 slider burgers.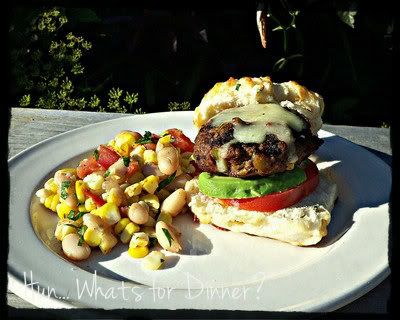 This post linked to
What's Cooking Wednesday
Full Plate Thursday
Recipe Box
Tastetastic Thursday
Fit and Fabulous Fridays