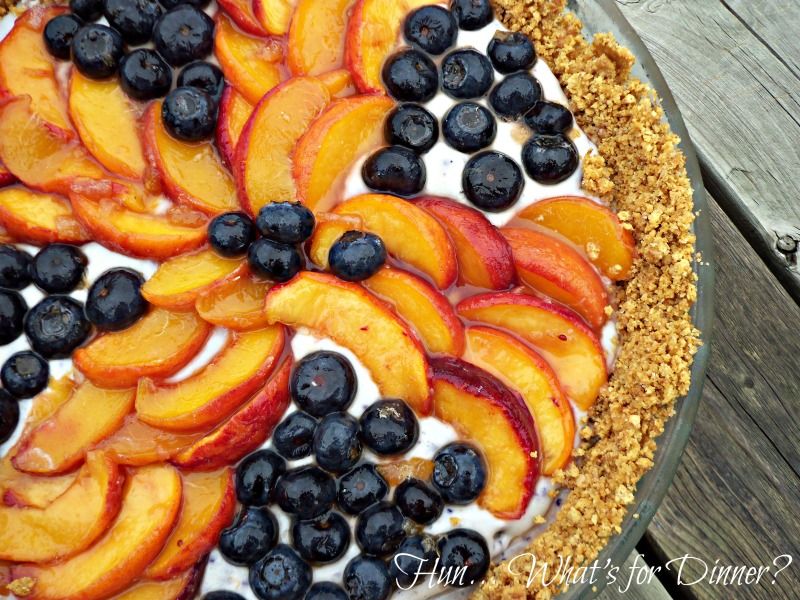 It's hot! Boy, is it hot! It isn't too bad, considering we have A/C, but who wants for spend the whole summer indoors?? So, to beat the heat we've set up the pool and have really been enjoying it. Another way we like to cool off, is to enjoy some cold treats. Though the kids love my Rapsberry- Peach Yogurt Pops, sometimes they just want something that resembles and tastes more like dessert. So, I decided to go the frozen pie route. I have never made a frozen pie before, so I wasn't too sure how to go about this. I thought, why not go similar to a no bake cheesecake, but frozen. Since Hubby had brought home a basket of beautiful Ontario peaches, I decided to do a bleuberry peach dessert. I love the blueberry peach combo, it just screams Summer to me.
I can't tell you enough how much I LOVE this pie!! As it starts to thaw, it becomes a creamy sweet filling, topped by a delicious tart topping of fresh fruit. I wanted a glazed effect of the fruit, so I tossed them with some of my homemade Lemon Cranberry Marmalade. The tart marmalade mellowed out the sweetness of the filling and fruit. Hubby and I snuck a few pieces, last night, when the kids went to bed and the kids finished off the pie today for lunch. THAT'S HOW GOOD IT WAS!!
Step by step video:
Ice Box Blueberry-Peaches and Cream Pie
printable version
1 1/2 C graham crumbs (about 14 crackers)
1 Tbs sugar
2 Tbs butter, melted
1- 8oz pkg cream cheese, softened
1/3 C blueberries
1 Tbs lime juice
1 can sweetened condensed milk
4 fresh ripe peaches
1 C fresh blueberries
1 C marmalade, or peach jam
In a bowl, combine the graham crumbs, sugar and melted butter. Stir until mixture resembles wet crumbs. Press mixture into a 9 inch deep dish pie plate. Refrigerate while making the filling.
In a separate bowl, beat the cream cheese, until smooth and creamy. Add the condensed milk and beat to combine. Set aside.
Using a small food processor, or coffee grinder, puree the blueberries, with the lime juice. Add the blueberry puree to the cream cheese mixture; mix until well combined. Pour the cream cheese filling into the graham crust and place in the freezer for a minimum 4-6 hrs, to over night.
Before serving, take peaches and slice thinly. Place peaches in a bowl with blueberries and marmalade. Gently toss to coat. Arrange peaches in a pattern on frozen pie, using blueberries to fill in the blank spaces. Slice and serve. Cover any unused pie and return to the freezer. Thaw 10 minutes, before slicing and serving.
This post linked to
Weekend Potluck
Foodie Friday
Foodie Friends Friday
Sweets for a Saturday
Church Supper