Hello Everyone,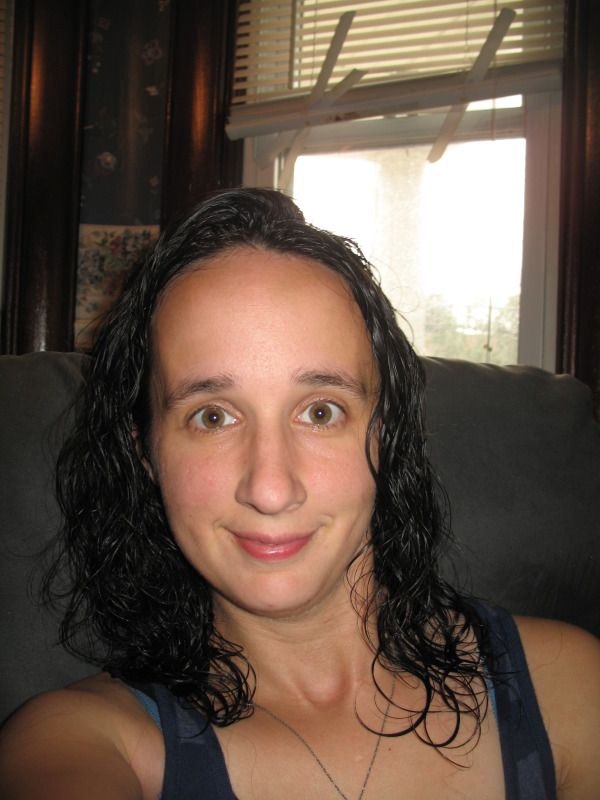 When Cindy @Hun What's for Dinner wanted a guest poster I jumped at the chance. I enjoy sharing my recipes, and helping my foodie friends out at the same time. My name is Alyssa but people call me Lysska or Lyss, and I am 27 (28 on August 8th). As a child/teen I grew up in Illinois and I loved every aspect of it, but since moving to the East Coast I love it here. The ocean soothes me....I miss the country life though. My dearest and I have two daughters Meghan Brianna(4) and Karina Grace (2). I am the owner and Blogger of
Cooking From A SAHM Blog
and
Cooking From A SAHM Facebook page
:-) Cooking has always been something I enjoy...Some people jog, some people yell when they are stressed. I on the other hand cook, and bake. Growing up my mom always was cooking/canning. We had a good supper on the table every night. She had no problems with us kids experimenting in her kitchen. She gave me my love of cooking and family. She taught me that family means everything, cooking and family dinners are important. So as I began my Cooking From A SAHM page, I decided I would make sure everyone would include their kids in the kitchen. That was the beginning of Cooking From A SAHM.
One thing my mom passed onto me was her love of Chocolate...I remember her always keeping frozen M&M's or Hershey Kisses in the freezer. Even when she comes to visit me she always leaves me chocolates in the freezer. My love of chocolate is the fuel for my recipe that Im sharing with you. I love Nacho's and I love chocolate so I decided to combine the two and make "The Ultimate Chocolate Nachos". At first you might think "ewww" but hold off on that thought :-) My dearest and I made "The Ultimate Chocolate Nachos" which are soooo amazing. You will love them as much as we did :-)
The Ultimate Chocolate Nachos
Ingredients
5 Tortillas ( you can add more depending on who you are feeding)
Oil( You can use a deep fryer or just a pan with oil)
Directions:
Heat up the pan and make sure it is hot....you do not want them to just float... Once the oil is hot then flip them over. You want them to be golden brown. Take a plate and line it with paper towels. Just enough to where it soaks up the grease.Then you want to make a sugar mixture for the top.
Cinnamon Sugar:
1/2 Cup of Sugar
1 Tsp Cinnamon
Sprinkle the chips with the Cinnamon Sugar mixture, then arrange them on a plate.
Once you have arranged them on a plate then you can start adding toppings.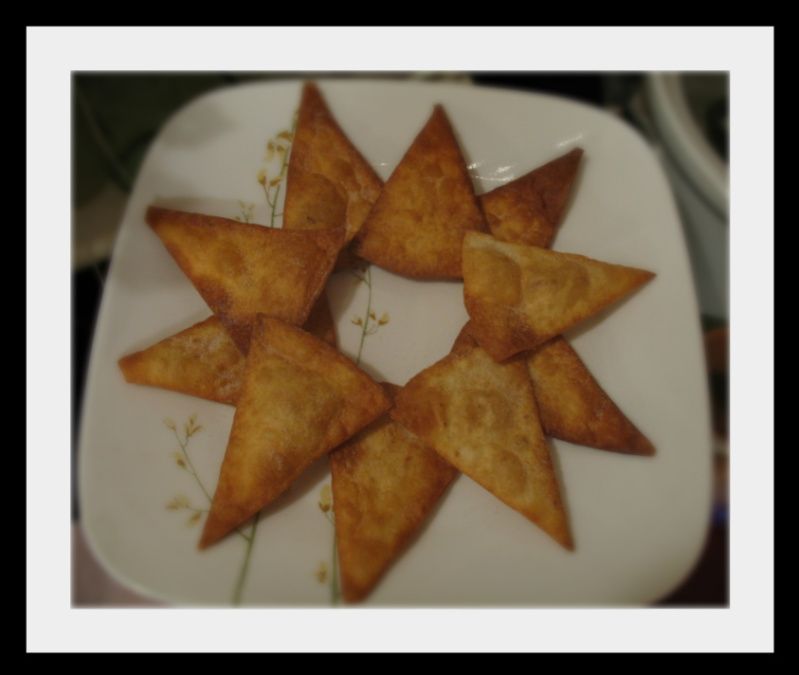 1st Set
Dark Semi Sweet Chocolate(You can use whatever chocolate you want, but this tasted good.)
Bowl
Directions:
We used bitter sweet dark chocolate to melt and drizzle on top. We melted it in a bowl in the microwave, poured it in a little baggy. Then cut the end just a little bit. Then drizzled the top of the chips
2nd Set of Toppings:
5 Mint Leaves
Raspberries
Crumbled cookies( I made homemade chocolate chip cookies, but you can use store bought)
Directions
Around every other triangle we put a mint leaf and a raspberry on top. Then in a blender we took cold cookies and put them in my blender. Till it was cooking crumbs(not chunks). Then we lightly sprinkled it with cookie crumbs.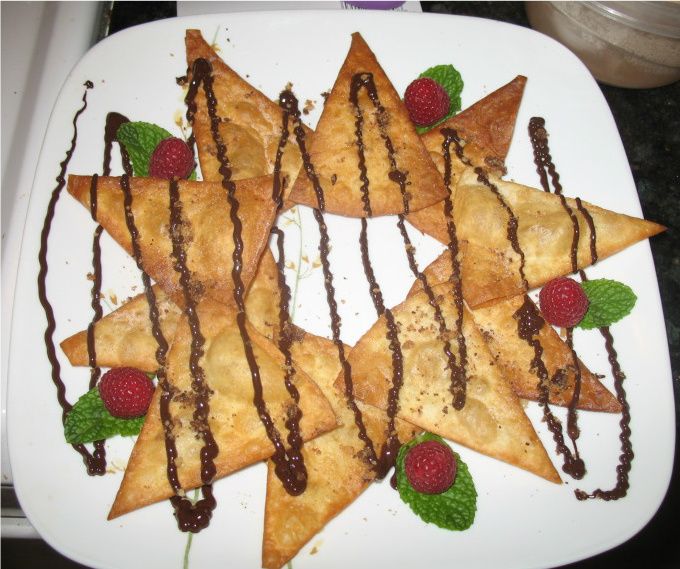 Third set of Toppings:
The leftover melted chocolate
Whip Cream
5 Mint Leaves
1 Raspberry
Grated Milk Chocolate
In the middle we put whip cream in the middle. We used Redi Whip from a can. We drizzled the leftover bitter sweet dark chocolate on it. Placed the mint leaves around it. Topped it with a red raspberry in the middle. Then took the grated milk chocolate and sprinkled it over the dish.