Happy Monday everyone. The kids and I have gone to the U.S, to visit family. So, I am happy to be sharing some really great posts, from some amazing fellow bloggers. So, look for new faces this week and I hope you treat them with as much kindness and respect as you do me. Thanks again and see you next week.
~~~~~~~~~~~~~~~~~~~~~~~~~~~~~~~~~~~~~~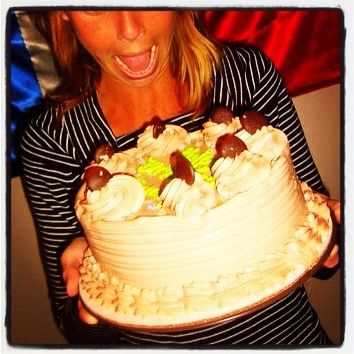 Hello everyone! I'm Emma, from
Crêpes Suzettes
. I was born and raised in Paris, France and moved to the US about 6 years ago. I have a passion for writing, photography and cooking, which is why I decided to start a blog about food. Since I moved to the US, I certainly miss quite a few dishes from France, and I try to either make the ones my family used to do for me, invent a few from scratch and my French creativity, or simply add a few things for my personal taste and culture, into every day meals. I love sharing my creations with you on my
blog
and on
Facebook
.
Today I would like to share with you a traditional recipe for Crêpes. There is actually no difference in the process of making savory crêpes or sweet crêpes, but they certainly do taste different. One of the famous and traditional sweet crêpes in France is "Crêpes au chocolat" (chocolate crêpe), or sometimes, the chocolate is replaced with Nutella. The exciting part about making crêpes is that you can be as creative as you want when it comes to the filling. Today, I will give you the recipe of my Nutella & Banana crêpe.
Ingredients for the batter:
1 cup of flour
2 cups of milk
A little bit of salt
A little bit of vanilla
1 egg
Whisk everything together until it is a smooth light batter. Ideally, let it rest for a couple of hours at room temperature, with a lid.
When you are ready to eat, get your Crêpe pan (non-stick skillet) ready and coat it with a little bit of butter.
With a ladle, pour the batter in the pan, while swirling it, so it covers the crêpe pan in a thin layer. Let it cook for a few minutes (make sure the burner is on medium). Loosen the edges of the crêpe with a soft knife. When the bottom side of the crêpe is golden (it should unstick naturally if cooked enough), flip it with a spatula.
Ingredients for Sweet cr
ê
pes: in general, add anything that you feel like eating. This cr
ê
pe recipe will have bananas and chocolate and I will top it with a scoop of vanilla ice cream.
ê
pe is flipped, start by adding the chocolate (Nutella). With a spoon, spread the chocolate all over one side of the cr
ê
pe, while still in the pan. It will help melt the chocolate/Nutella.
On top, add 2/3 of your sliced banana.
Fold your cr
ê
pe in a cone shape. Once folded, add the left over slices of banana on top, one scoop of vanilla ice cream and squeeze a zest of chocolate sauce to decorate it. Voila! Bon appétit!