Today's Guest Blogger is very special to me. We first met over a year ago, during the Real Women of Philadelphia Canada contest. I loved how vibrant and carefree she was in her videos. She has a larger than life personality, that is only over shadowed by her absolute kindness. We quickly became friends and met at the RWOP gala last year (she's the one on the right, in the photo). Cathy and I are now part of an amazing group of Canadian bloggers known as The Canadian Cookies, on Facebook. You can find out more about Cathy, by visiting her site The Hungry Hollow and/or her Facebook page.
Cathy has won many awards for her baking and cooking skills, which includes winning Food Network Canada's Season 2, Chicken Bingo episode on "Dinner Party Wars". She also earned a spot in Kraft Canada's Real Women of Philadelphia Cookbook, Season 1 and a trip to New York City for her brownies on a stick for the Season 2 Dream Destination Contest!
Raised on a hobby farm in the 1970′s, I take what I've learned over the years about baking, cooking and self sufficient living and pass them on to you! Today I would like to share a wonderful and easy Bean Salad with all of you. Enjoy!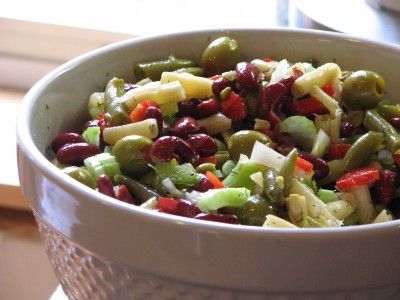 Mom's Most AWESOME Bean Salad
The Hungry Hollow
1 Can – 398ml Yellow Beans
1 Can – 398ml Green Beans
1 Can – 540ml Kidney Beans
1 Can – 540ml Chic Peas
Half – Onion, diced
1 Cup – Celery, chopped
1/2 Cup – Red Pepper, diced
1 Cup – Whole Stuffed Manzanilla Olives

DRESSING:

3/4 Cup – White Sugar
3/4 Cup – White or Cider Vinegar
1/2 Cup – Vegetable Oil (Don't use olive oil – too strong for this recipe)
1 Tsp – Salt
1/4 Tsp – Pepper
1 Tsp – Dried Dill OR 1 Tbsp Fresh Dill
Instructions
Put all the Veggies in a bowl.
Put the dressing ingredients into a Mason Jar and shake
Pour over Beans and Veggies and stir well
Let sit overnight to 24 hours for ultimate flavour