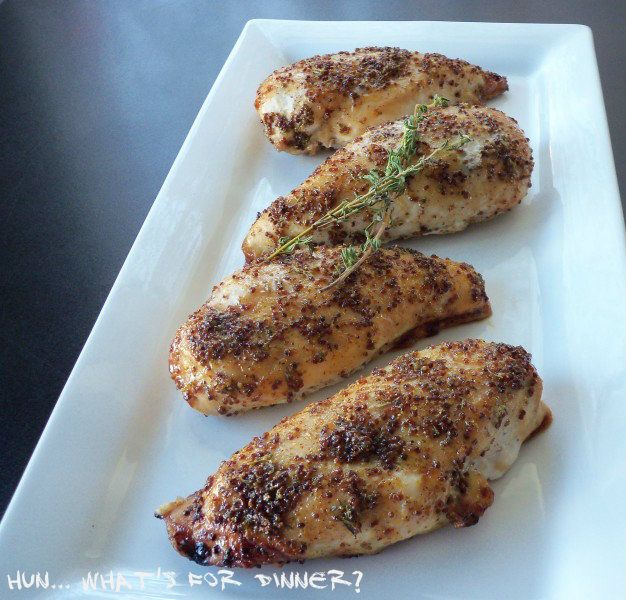 I love chicken. It's my go to protein, when I'm thinking of something new to make for dinner. It's so versatile and goes with so many flavours. You can turn an ordiany peice of chicken, into just about anything amazing. Last week, I was browsing my pantry, to see how I could transform my chicken for dinner, when my eyes landed on maple syrup and whole grain Dijon. I knew they'd pair up beautifully with the chicken, so I got to work. I decided to serve it with some roast sweet potatoes and it was a sensational meal.
The kids and I really loved the sticky sweet glaze, that had a slightly hot tart bite to it. I decided to add some freshness to it, with some fresh thyme and a dash of colour with some paprika. We all really enjoyed the chicken and it was even delicious the next day, chopped with apple and a bit of mayonnaise, for chicken salad. One more delicious chicken dish, in my chicken folder. Though this one has more Fall like flavours.
Maple-Dijon Glazed Chicken Breast
printable version
4 boneless skinless chicken breasts
1/2 C pure maple syrup
2 Tbs whole grain Dijon mustard
2 tsp fresh thyme, chopped
1 tsp paprika
1/2 tsp coarse sea salt
fresh ground pepper
Place chicken in a large zip top bag and set aside. In a small bowl, combine the maple syrup with the Dijon, thyme, paprika, salt and pepper. Pour maple syrup mixture in with the chicken and seal up the bag. Gently message the marinade onto the chicken breast, place on a plate and refrigerate for 30 minutes; turning and messaging chicken half way through. Preheat oven to 375 degrees. Bake chicken for 20- 30 minutes, until internal temperature of chicken reaches 165 degrees. Let chicken rest, tented with foil for 10 minutes, before serving.
This post linked to
Delicious Dishes
See Ya in the Gumbo
Tasty Tuesday
Hearth and Soul
Tuesdays at the Table
Fit and Fabulous Friday