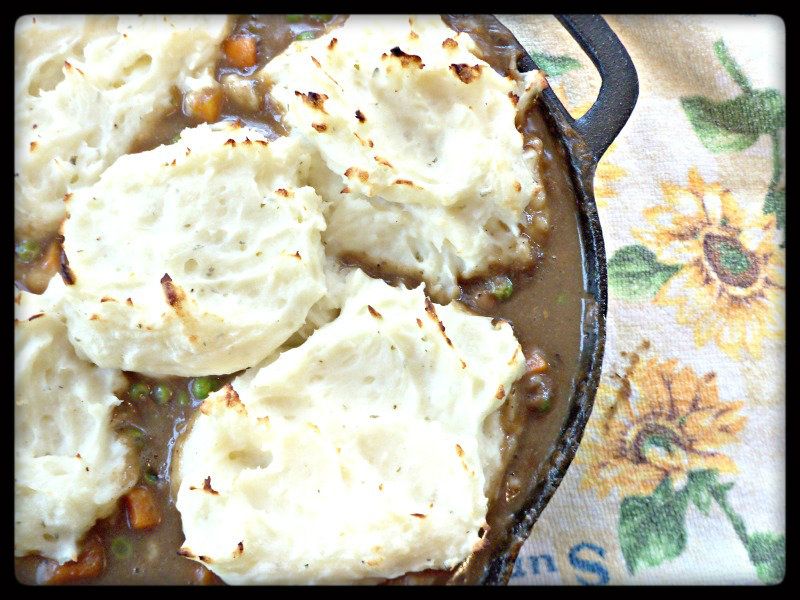 You know, growing up I didn't like Shepherd's Pie. I hated it and hated that my Mom would practically make it, once a week. Now you're probably wondering why I would be so revolted by one of the most popular comfort foods. Well, it was partly due to the ground beef. I've only now, started eating ground beef regularily and enjoying homemade beef burgers. I won't go into detail as to why I hated ground beef, but I suspect it had a lot to do with the fact that in those days, there was no lean ground beef. When I started dating Hubby, he often offered to make Shepherd's Pie for me. I always declined, saying that I prefered a different dish, which he makes (those were the pre kid days, where money didn't really matter and he still loved cooking for me..... I thought I had it made; but I digress). Then one day Hubby asked me how my Mom made Shepherd's Pie and my secret was revealed. I hated the layers of ground beef, creamed corn and potatoes (I really still do) and Hubby explained that he made his version with leftover roast beef. Nope, I still wasn't going for it buddy!!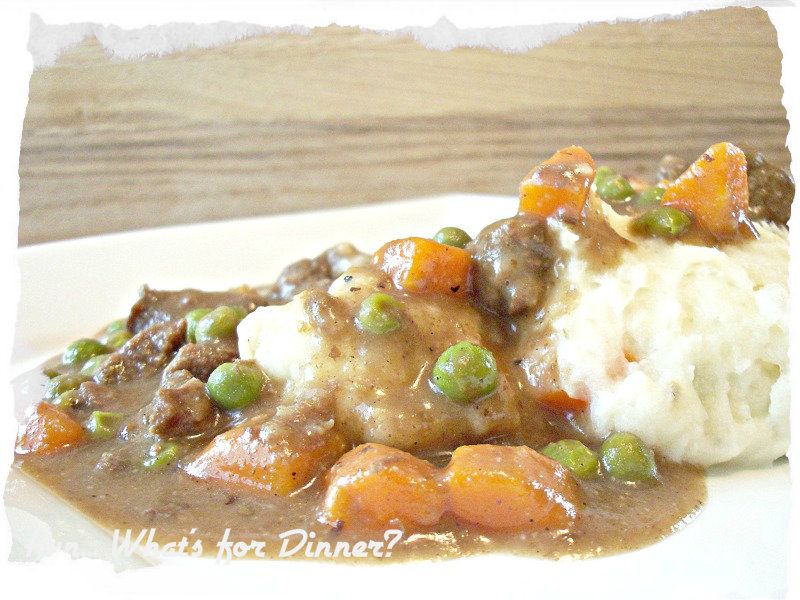 Well, I'll let you in on a little secret- last night was the first time I ever made Shepherd's Pie; in my whole life! And it was the first time I've eaten it, since those days where it was ground beef, creamed corn and potatoes. I decided to take some stew beef and simmer it until tender, throw in some veggies and make a gravy. I then topped that with some beautiful herb whipped potatoes and it was FANTASTIC!! The beef just melted in your mouth and the creamy potatoes and veggies were the perfect vehicle for the gravy. I really truly enjoyed Shepherd's Pie; something that I thought would never happen.
printable version
1 1/2 lbs stewing beef, cut into 1/4 inch pieces
2 Tbs olive oil
4 C water
2 bay leaves
2 sprigs of fresh thyme
1 large carrot, chopped
1/4 C flour
2-3 C low sodium beef broth
1 tsp oregano
1 tsp garlic powder
1 tsp onion powder
salt and pepper to taste
1 C frozen peas
6 large potatoes, peeled and cut into cubes
4 oz light Herb and Garlic cream cheese
3 Tbs butter
1/2 C milk
fresh ground pepper
In a large pot heat olive oil, over medium high heat. When oil begins to ripple, add stew beef in a single layer and cook for 1-2 minutes, until browned. Stir, turning beef pieces over and cook for an additional minute, to brown opposite side. Add in water,a pinch of salt and pepper, bay leaves and thyme; bring to a boil, reduce heat and simmer until water is almost all evaporated (about 1 to 1 1/2 hrs).
Add in carrots, stir and continue cooking until water is completely evaporated. Sprinkle in flour and stir to coat beef and carrots; cook 2 minutes. Slowly add in beef broth, stirring and scraping up any brown bits in the pan. Season with oregano, garlic and onion powders. Simmer over med-low heat, until thickened. About 15-20 minutes.
While the gravy thickens, add potatoes to a pot of salted boiling water and cook until fork tender; about 10 minutes. Drain potatoes and return to the hot pot. Add in cream cheese, butter and milk, and using an electric mixer, beat until smooth. Check for seasonings and adjust salt and pepper, as desired.
Preheat oven to 375 degrees. Once gravy is thickened, pour the beef mixture into a casserole dish, or cast iron skillet. Top with mounds of mashed potatoes and place in over. Bake until tops of potatoes begin to brown; about 15 minutes.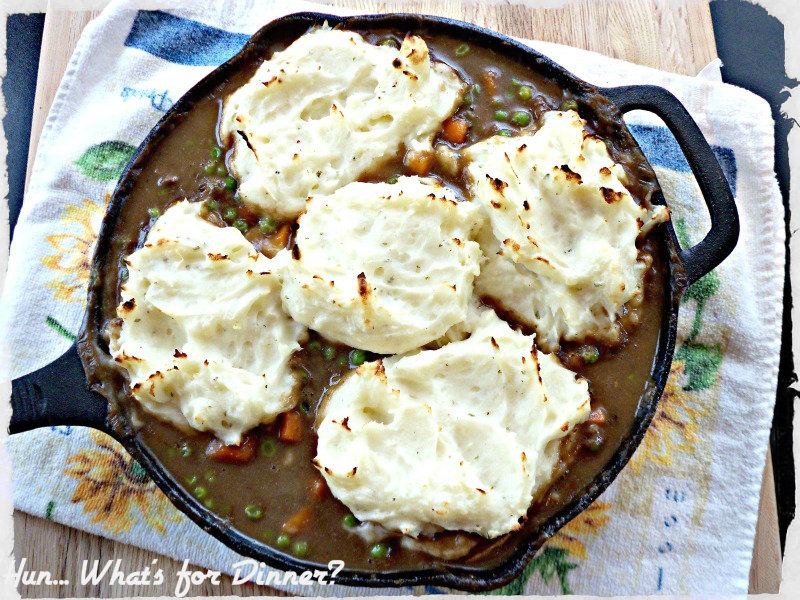 This post linked to
Recipe Box
Tastetastic Thursday
Full Plate Thursday
Tasty Thursday