Last week, my girlfriend came to spend a few nights with us, before school starts up again. We had a great time and she surprised us, with some green peppers and tomatoes from here garden. They all smelled so good and the tomatoes were such a bright red, I couldn't wait to dig in. While we used a few on sandwiches, I decided to use the remaining tomatoes in a salad. I wanted a salad that would let the sweetness of the tomatoes shine, so I went with a simple tomato cucumber salad.
It can't get any easier than this. The vinaigrette is light, slightly sweet and tangy. It pairs wonderfully with the sweet tomatoes and fresh cucumber. The kids especially loved this salad and if given the chance, they might have only eaten that, for dinner, LOL. Not only are the colours stunning, this salad is like summer in a bowl!
printable version
4 vine ripe tomatoes, chopped
1 medium seedless cucumber, sliced on the diagonal
2 green onions, sliced
2 tbsp balsamic vinegar
1 tsp extra-virgin olive oil
1/4 tsp sugar
2 tsp basil
Freshly ground black pepper to taste
a pinch of sea salt
Place tomatoes, cucumber and green onion in a medium bowl. Combine vinegar, oil, sugar, basil, pepper and salt. Drizzle over tomatoes and cucumber; toss. Let sit for 20 minutes, before serving. Refrigerate or serve at room temperature.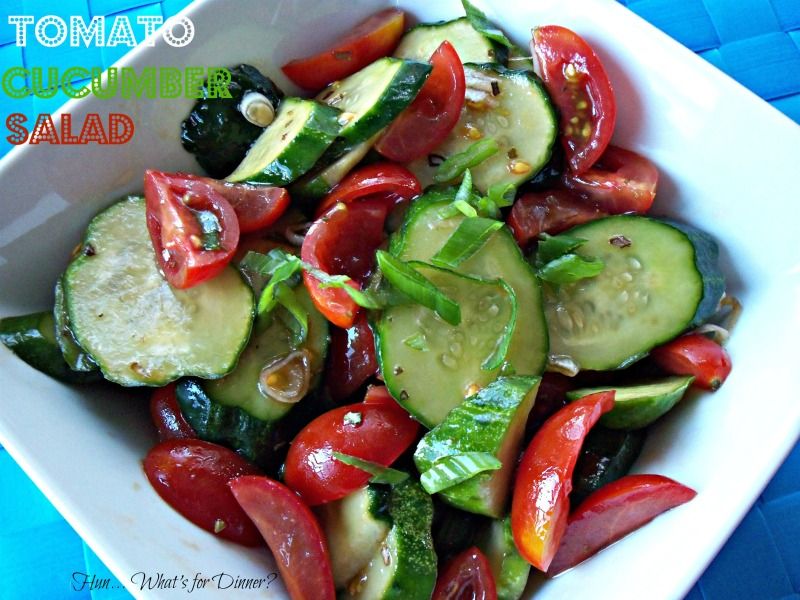 This post linked to
Tuesdays at the Table
Hearth and Soul
Delicious Dishes
See Ya in the Gumbo
Tasty Tuesdays