One of my favourite things to do, when I head to the mall, is to stop for frozen yogurt. I just love the creamy, tangy, fruit filled frozen goodness. As much as I love ice cream, sometimes a girl just needs to have something delicious, that she doesn't have to feel so guitly about, LOL. We've been so busy this summer, that I totally neglected my ice cream machine. There it sits in the cupboard, while the bowl sits in the freezer. Waiting, longing to be put to work. I took the time this week, to make something yummy for us. I had tried making frozen yogurt about 4 yrs ago, and found it wasn't quite creamy enough, so I decided to tweak the recipe a bit. The result was a creamy delicious tangy concoction.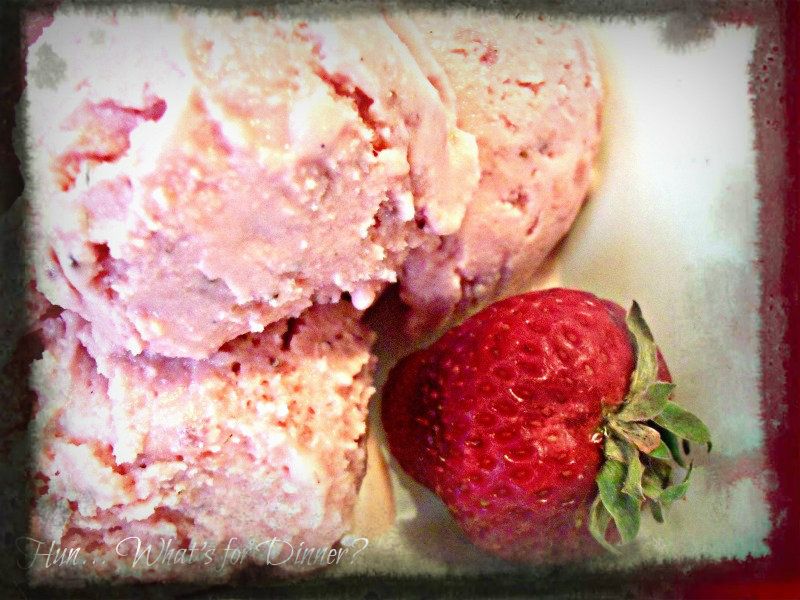 I decided to go with Greek yogurt, since it is thicker and creamier and threw in a bit of heavy cream, just to help smooth it out a bit and to give the yogurt a satiny feel on the tongue. Vanilla and strawberry seem to be a hot trend right now, so I decided to go with it and I loved the combination of flavours. Not just your ordinary frozen yogurt here!
Vanilla-Strawberry Frozen Yogurt
printable version
3 C sliced fresh strawberries
2 Tbsp lemon juice
2/3 C sugar
pinch of salt
1 vanilla bean
1/2 C heavy cream
1 1/2 C vanilla Greek yogurt
In a medium saucepan, over medium heat, bring strawberries, lemon juice, sugar and salt to a boil. Cut vanilla bean in half, length wise and with the tip of a pairing knife, scrape out the seeds. Add seeds to the strawberry mixture. Cook until sugar has completely dissolved; mashing berries as they heat up. Remove from heat and let cool to room temperature.
Once strawberries are cool, combine them in a large bowl with the Greek yogurt and cream. Refrigerate at least 4 hrs, to over night; before freezing. Carefully pour into your ice cream machine and freeze according to manufacturer directions (approx 25-30 mins). Serve immediately, or transfer to a plastic container and place in freezer, until later use.
Makes about 1 quart
This post linked to
Foodie Friday
Weekend Potluck
Foodie Friends Friday
Church Supper