Something that is always in my grocery cart, when I go shopping, is tortillas. We just love them and use them for just about everything. Mostly for sandwiches and enchiladas, but I've used tortillas to make Mexican S'mores, that are quick easy and super yummy. So, when I was asked to review
Tortillas to the Rescue Cookbook by Jessica Harlan
, a book containing 100 Quick & Easy Recipes using tortillas, I was in! I love this book and it is already full of earmarked pages, of the recipes I would like to try. There are recipes for just about everything in this book. Appetizers, salads, soups, mains, breakfast and even dessert. For this post however, I wanted to share a super clever twist on Egg in a Hole. The kids love regular egg in a hole, so I decided to give this one a try.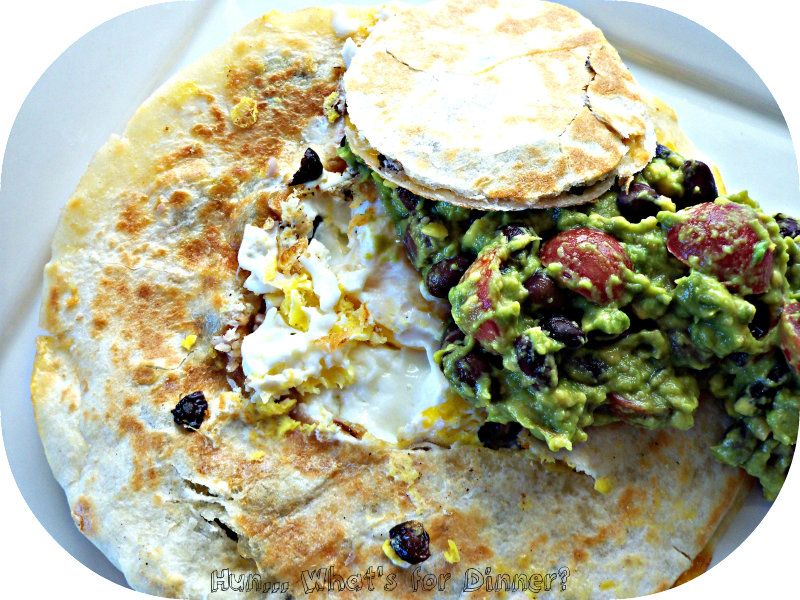 This was really awesome!! I love the way the tortilla crisps up, the gooey cheese paired with the creamy beans and that runny egg, that adds even more creaminess. I did have a bit of trouble with ours, because I somehow did not read the 'use a non stick skillet' part, LOL. So please, use non stick..... it'll save your children from hearing you curse at the tortilla as it sticks to you pan. I decided to serve these with a quick guacamole, mixed with beans and tomato.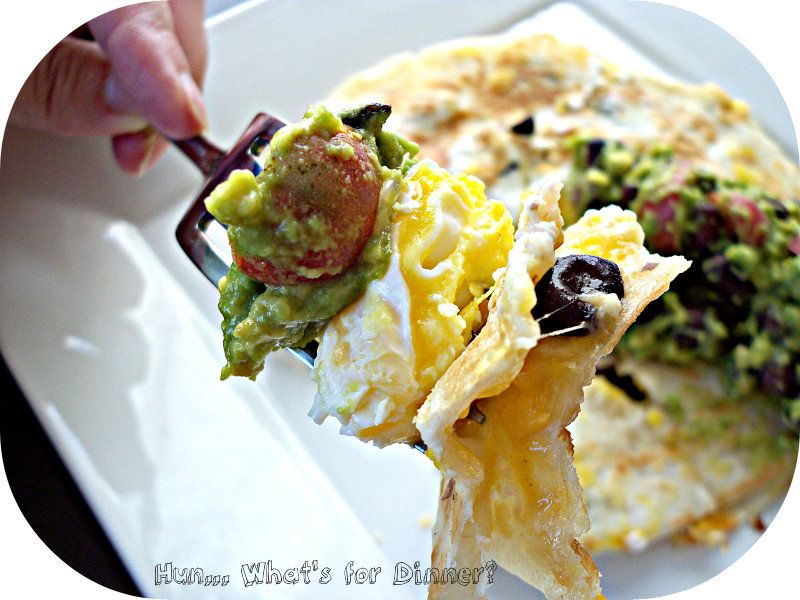 Tortillas to the Rescue Cookbook
1 (14 oz) can black beans, drained and rinsed
2 C shredded Monterey Jack cheese (8 oz)
8 medium (8-inch) flour tortillas
2 Tbs unsalted butter, or more as needed
4 large eggs
kosher salt and black pepper
Divide the black beans and cheese among 4 tortillas and top each with a second tortilla to form quesadillas. Spray a medium nonstick skillet with cooking spray and heat it over medium-high heat. Reduce the heat to medium, place a quesadilla in the skillet, and cook until the underside is lightly browned and the cheese inside begins to melt, 2 to 3 minutes. Flip the quesadilla over and cook until the second side is lightly browned and the cheese is melted, 2 to 3 minutes longer. Remove the quesadilla to a cutting board and repeat with the remaining quesidillas. Use a 3-inch round cookie cutter or pairing knife to cut a whole in the center of each quesidilla.
Return 1 quesadilla to the pan, still over medium heat, and place a small dab of butter on the pan in the center of the hole. When the butter melts, carefully break the egg into the hole. Let cook until the white is completely set and the yolk is cooked to your liking. Season with a sprinkle each of salt and pepper. Repeat with remaining quesadillas and eggs. Serve hot.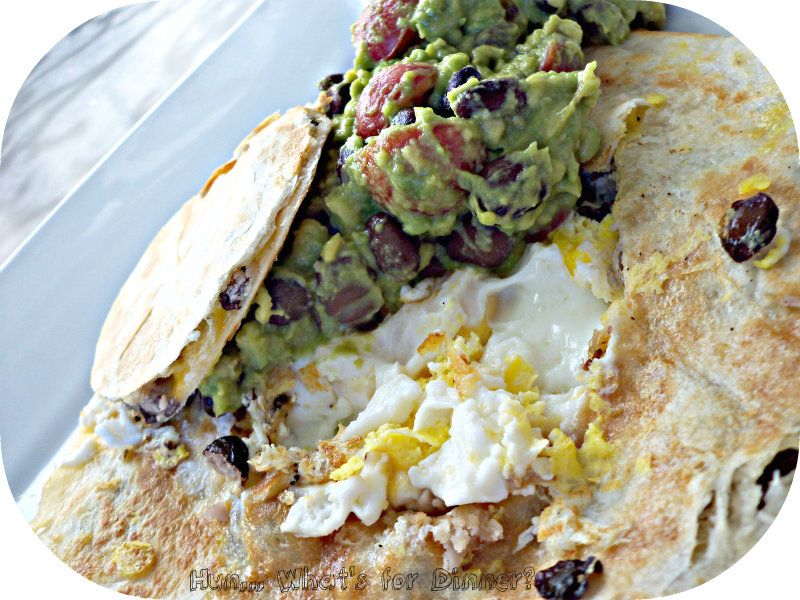 This post linked to
Tasty Tuesday
Delicious Dishes
See Ya in the Gumbo
Tuesdays at the Table
Hearth and Soul
Real Food Wednesday
Cast Party Wednesday
What's Cooking Wednesday