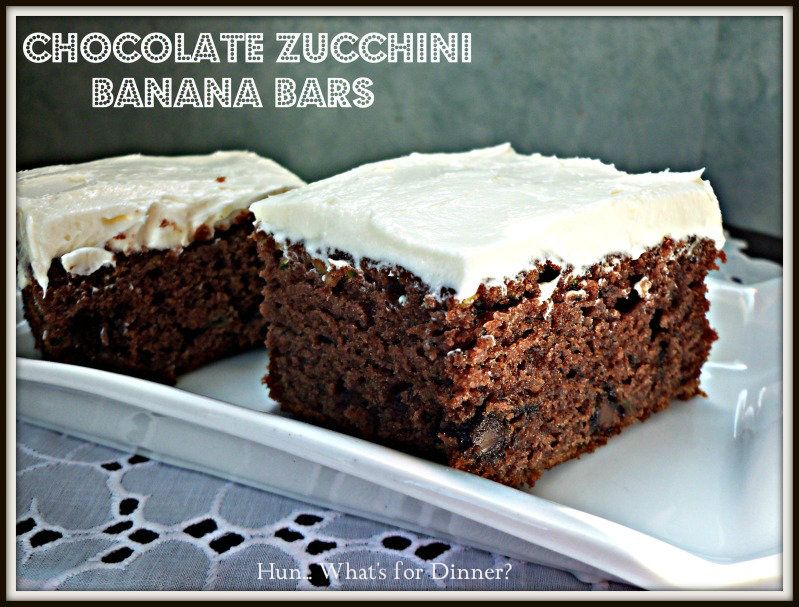 Though the weather is getting colder, I'm still trying to hold on (a tiny bit) to summer. So, I've still been cooking and baking with zucchini. I really love baking with it, since the kids aren't really fond of it in savory dishes, but will devour any dessert with zucchini in it. This time I decided to pair it with something that I always have in my freezer; ripe bananas. Years ago, I remember making fantastic banana bars with cream cheese frosting, so I decided to alter the recipe a little. By adding cocoa powder, zucchini and chocolate chips, I got a sinful dessert.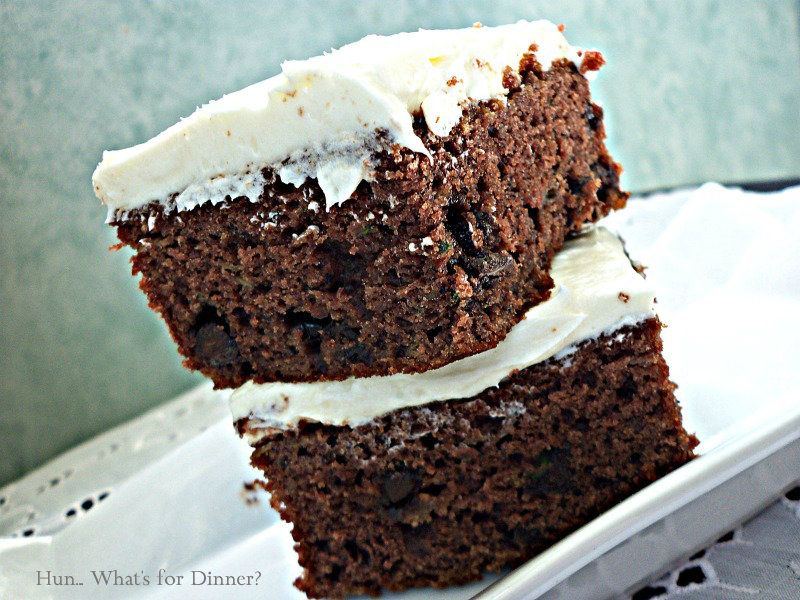 These bars, or should I say sheet cake, are so moist. I loved the banana and chocolate flavours paired with the sweet and tangy cream cheese frosting. Let's face it- Cream Cheese Frosting is good on pretty much anything, LOL. The kids loved these and I loved that they were getting extra nutrients, without even knowing it. A little indulgent and a little healthy; the perfect dessert combination in my books.
Frosted Chocolate, Zucchini-Banana Bars
printable version
1/2 cup butter, softened
1 1/4 cups sugar
3 eggs
1 cup mashed ripe bananas (about 2 medium)
1 cup shredded zucchini (about 1 small)
1 teaspoon vanilla extract
2 cups all-purpose flour
1/4 cup cocoa powder
1 teaspoon baking soda
Dash salt
1 1/2 cups semi-sweet chocolate chips
FROSTING:
1 package (8 ounces) cream cheese, softened
1/2 cup butter, softened
4 cups confectioners' sugar
2 teaspoons vanilla extract
In a large bowl, cream butter and sugar until light and fluffy. Beat in the eggs, bananas, zucchini and vanilla. Combine the flour, cocoa powder, baking soda and salt; stir into creamed mixture just until blended. Fold in the chocolate chips.
Transfer to a greased 15-in. x 10-in. x 1-in. baking pan. Bake at 350° for 20-25 minutes or until a toothpick inserted near the center comes out clean. Cool in pan on a wire rack.
For frosting: in a small bowl, beat cream cheese and butter until fluffy. Add confectioners' sugar and vanilla; beat until smooth. Frost bars.
This post linked to
Foodie Friday
Weekend Potluck
Foodie Friends Friday
Sweets for a Saturday
Church Supper
Scrumptious Sundays