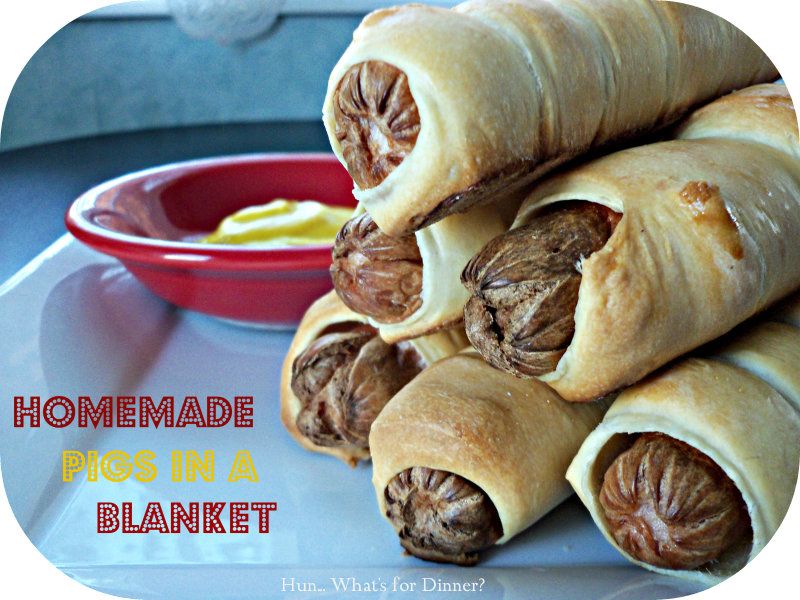 Once a month, on a Friday night, we have a special movie night. We get home from school, change into our PJs and pick out a few movies. One for dinner, then one for after dinner. Some night we do themed movie nights, like our
Harry Potter Movie Night
, but most nights we just have a picnic in the living room, while watching one of our many favourite children's movies. One of the kids most requested movie night dinners, is Pigs in a Blanket, or Blankie Pigs as Queenie calls them. When I first made these, I used canned crescent rolls and the kids were not fans at all. So, I decided to try them again, using my favourite pizza dough recipe and they are a huge hit.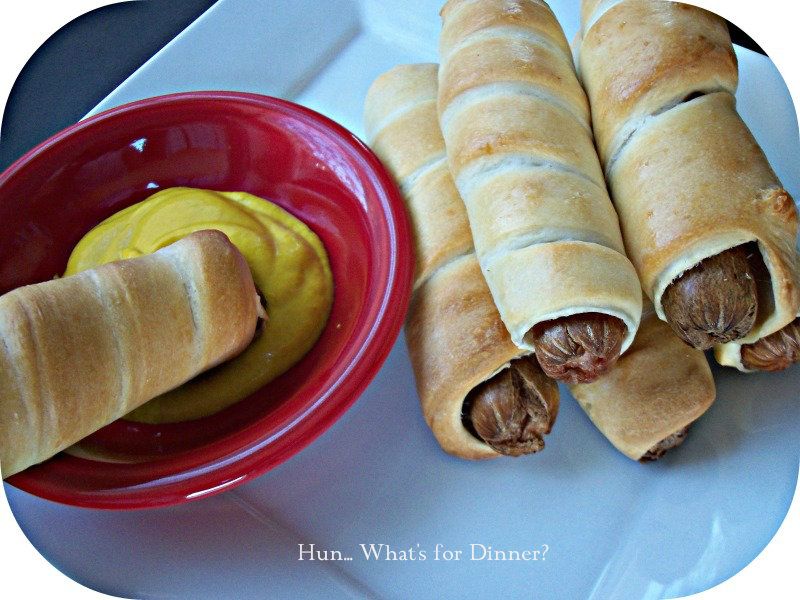 The dough gets nicely browned and crispy on the outside, and it's nice and soft on the inside. It really compliments the hotdogs well.
You can even cut the strips of dough thinner and wrap the dogs willy nilly for mummy dogs.
The kids love to dip theirs in ketchup, while I am more of a mustard person. I serve these with some veggies and dip and we have a great picnic dinner. Simple, easy and delicious.
Homemade Pigs in a Blanket
printable version
1 1/2 to 2 cups all-purpose flour
1 1/2 tsp RapidRise Yeast
1/2 teaspoon salt
1/2 cup very warm water (120 to 130F)
2 tablespoons olive
8 to 12 hotdogs
1 egg
In large bowl, combine 1 cup flour, undissolved yeast, and salt. Stir very warm water and olive oil into dry ingredients. Stir in enough remaining flour to make soft dough. Knead on lightly floured surface until smooth and elastic, about 4 to 6 minutes. Cover; let rest on floured surface10 minutes.(can olso be made in bread machine or stand mixer)
Preheat oven to 350 degrees
After the dough has rested, divide it into 2 pieces. Take 1 piece of dough and roll it into a rectangle, about 1/4 inch thick. Using a sharp knife, or pizza wheel, cut 1/4-1/3inch strips of dough. Take one strip and wrap it around the hot dog, leaving a bit of the hot dog peaking out from each end. Place on a cookie sheet, that has been lightly sprayed with non stick spray. Repeat with remaining hot dogs.
In a small bowl, whisk the egg with a splash of water. Brush the dough wrapped dogs with the egg mixture. Bake pigs in a blanket in your preheated oven, for 20-25 minutes; until the dough is nicely golden and cooked through. Serve warm, with your choice of ketchup, or mustard.
This post linked to
Recipe Box
Cast Party Wednesday
Tasty Thursday
Thursday's Treasures
Tastetastic Thursday
Full Plate Thursday