We still have a bunch of zucchini and the fridge and I've been trying to think of ways to use it up, that the kids will enjoy. A sure fire way is in desserts, since who can say no to something sweet?? Every summer, I make my regular zucchini loaf, but this year I wanted to change it up. I had some fresh blueberries in the fridge, so I decided to make some blueberry zucchini loaf. Then I though, WAIT! Lemon goes really well with blueberry, so why not make a Lemon-Blueberry Zucchini Loaf? I'm sure glad I did, because this sweet bread was not only pretty, it was really yummy.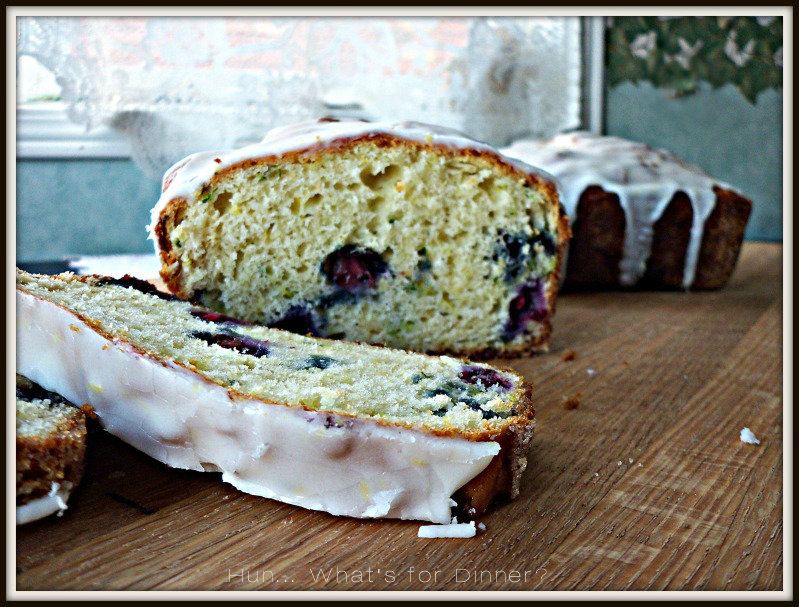 I especially loved the tart and tangy glaze I made to top the loaf. This sweet bread is so tender and moist and you can't even tell there is zucchini in it. I made two loaves to share with our neighbour and tied a cute ribbon on it, to make it look more elegant. They said they loved it and that the glaze was amazing and addictive, LOL. These would be super cute as mini loaves, tied with ribbons, to give as teacher gifts, or to neighbours.
Lemon-Blueberry Zucchini Loaf with Tart Lemon Glaze
printable version
1/4 C sugar
4 C flour
2 tsp baking powder
2 tsp baking soda
1 tsp salt
4 eggs
1/2 C canola oil
1 1/3 C sugar
1 C milk
Juice of 1 lemon
Zest of 1 lemon
2 C grated zucchini
1 1/2 C fresh blueberries
Preheat oven to 350 degrees. Grease 2- 9×5″ loaf pans and coat sides with 1/4 C sugar; set aside.
In large bowl combine the flour, baking powder, baking soda and salt. Add in blueberries, toss to coat and set aside.
In medium bowl, beat eggs with sugar, until light and fluffy. Add in the canola oil and blend well. Add the milk, lemon juice, and lemon zest and blend until well combined. Stir in zucchini, until evenly distributed in mixture.
Add this mixture to the dry ingredients and blend everything together, until just combined.
Pour batter into prepared loaf pans and bake at 350 degrees for 45-60 minutes; or until toothpick inserted in center comes out clean. Cool in pan 10 minutes, then remove to a wire rack and cool completely. While loaf is cooling, you can make the glaze.
Lemon Glaze
1 1/2 cup powdered sugar
Juice of 1 lemon
1 Tbs lemon zest
In a small bowl, mix the powdered sugar, lemon juice and zest until well blended. Spoon glaze over cooled loaf. Let glaze set, then serve.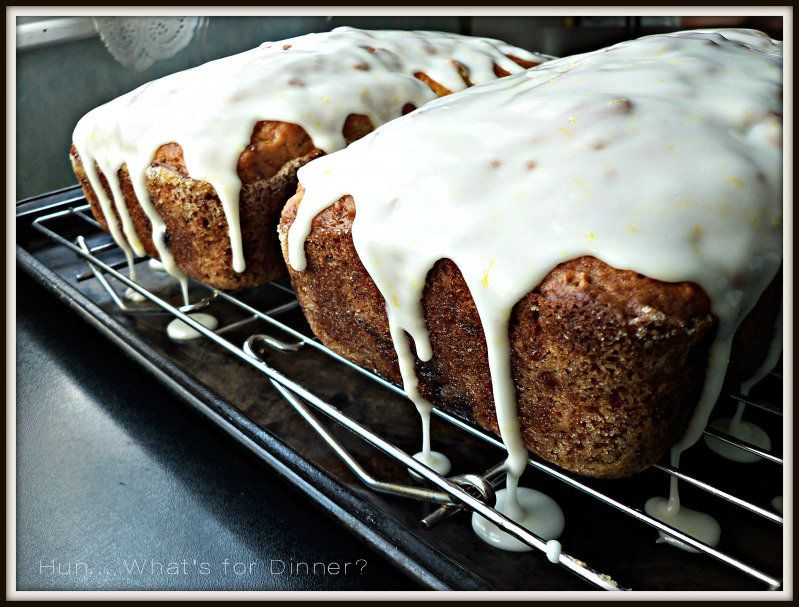 This post linked to
Recipe Box
Tasty Thursday
Full Plate Thursday
Tastetastic Thursday
Thursday's Treasures
Foodie Friends Friday
Foodie Friday
Weekend Potluck
Church Supper