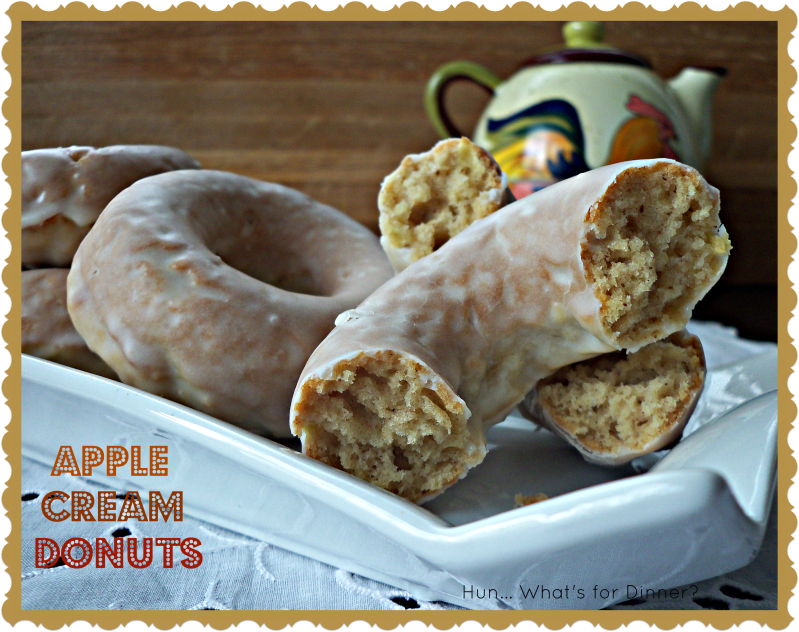 As a foodie and food blogger, I find that I am always on the look out for new food trends. Baked donuts became popular about a year ago. While I love donuts, I couldn't see how a baked donut, could ever hold a light to it's deep fried counterparts. Then a few months ago, I received a cookbook to review all about donuts.
150 Best Donut Recipes: Fried or Baked, by George Geary
, has every kind of donut imaginable. I love how George discusses equipment and ingredients, before even talking about donuts. It is important to know what kinds of tools you will need and how to use them. I mean we are not all professional bakers here, so I appreciate when a book goes into detail about what I will need and why. I also love that this book has both fried and baked donuts, and a bunch of delicious glaze, icing and filling recipes. So I took the plunge and bought myself some donut pans!!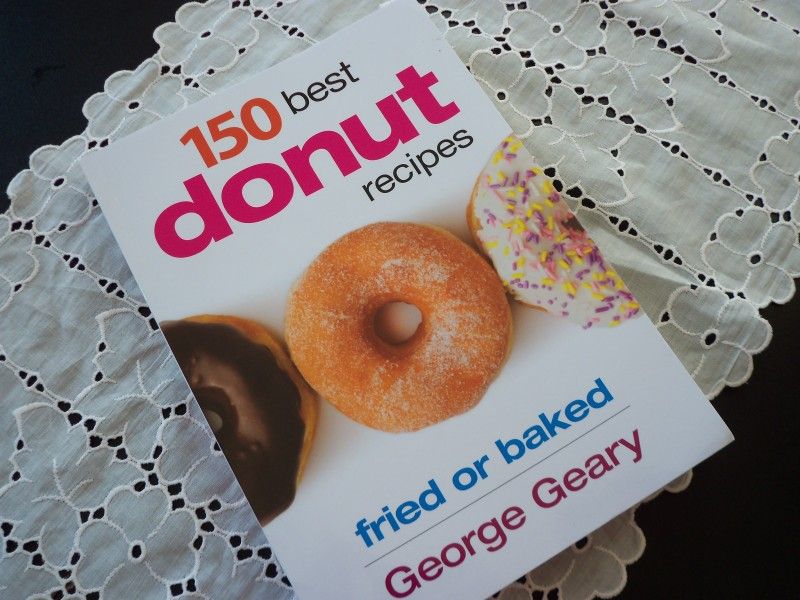 When Hubby found out I was going to make baked donuts, he wasn't very optimistic, LOL. I don't really blame him, I had a fear that these would turn out dense, tough and dry. Let me tell you, both Hubby and I were pleasantly surprised at the results. These donuts are so moist and tender and the taste is out of this world. Hubby even admitted that these donuts were AWESOME, for a baked donut (I would say so, he's had 4 of them, in the past 2 days, LOL). The kids also loved these and I love that they did not have to take a dip in hot oil, to taste phenomenal. I'm looking forward to trying more baked donut recipes and I think these healthier donuts may replace the family's deep fried donuts, at Christmas time.
Excerpted from

150 Best Donut Recipes

by George Geary © 2012 Robert Rose Inc.

www.robertrose.ca

Reprinted with permission. All rights reserved: Recipe not to be reprinted without formal permission from publisher.
Apple Cream Donuts
adapted from 150 Best Donut Recipes: Fried or Baked
printable version
2 C all-purpose flour
3/4 C packed brown sugar
2 tsp baking powder
1 tsp salt
1 tsp ground cinnamon
2 large eggs, beaten
3/4 C heavy or whipping (35%) cream
1 Tbs unsalted butter, melted
1 tsp vanilla
1 1/2 C finely chopped apples
Preheat oven to 325 degrees F.
Spray two 6-well donut pans, with nonstick spray
In a large bowl, whisk together flour, brown sugar, baking powder, salt and cinnamon. Set aside.
In another bowl, whisk together eggs, cream, butter and vanilla. Add to flour mixture and mix with a rubber spatula just until incorporated. Fold in apples.
Spoon batter into a resealable freezer bag or pastry bag and fill each prepared well two-thirds full.
Bake in preheated oven until donut springs back when lightly touched, 10 to 14 minutes.
Let donuts cook in pan on a rack for 5 minutes. Turn out of pans onto rack and let cool completely prior to filling and/or icing.
Dip into freshly prepared glaze, submerging both sides, and letting excess run off, before transferring them back to a wire rack.
Maple Glaze
2 C confectioner's (icing) sugar/powdered sugar
3 Tbs pure maple syrup, heated
2 Tbs heavy or whipping (35%) cream
1 tsp light (white or golden) corn syrup
hot water
In a bowl, whisk together sugar, maple syrup, cream and corn syrup until smooth. Stir in hot water if needed, 1 tsp at a time, to make a smooth glaze that is just thick enough to cling to donuts.
Dip donuts into glaze as soon as it is mixed or it will harden.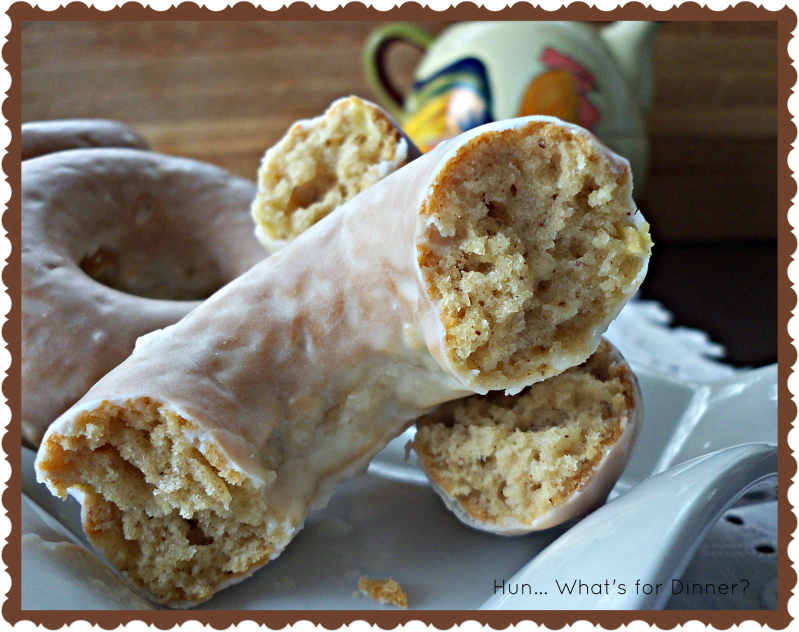 This post linked to
See Ya in the Gumbo
Delicious Dishes
Hearth and Soul
Tasty Tuesdays
Tuesdays at the Table
Church Supper
Scrumptious Sunday