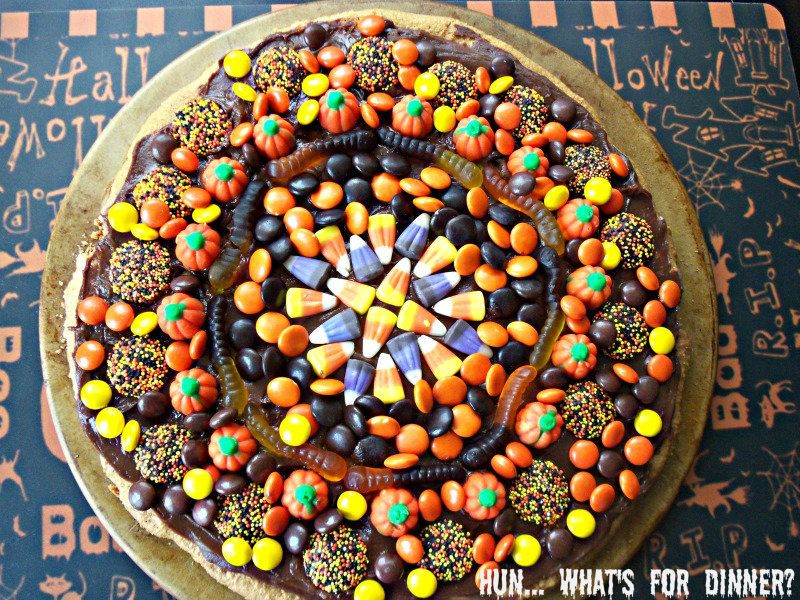 October is my favourite month of the year. OK, well not my absolute favourite, but it comes in close with the month of December. In October, the weather starts to become cooler, the days are shorter and or course there is Halloween!! WE LOVE HALLOWEEN! Hubby, who is a scary movie buff, loves decorating the house, for Halloween. And it isn't cutsie ghosts and pumpkins..... I'm talkin' severed heads and zombies; deranged people's Halloween decorations, LOL. While Hubby loves to decorate outside, I love to get into the kitchen to make Halloween treats. Last year, I really enjoyed making Halloween cupcakes every week, but this year, I am more busy than last. I will try to post a few Halloween recipes, but can not promise as many as last year. At least our house is still the scariest on the block, LOL.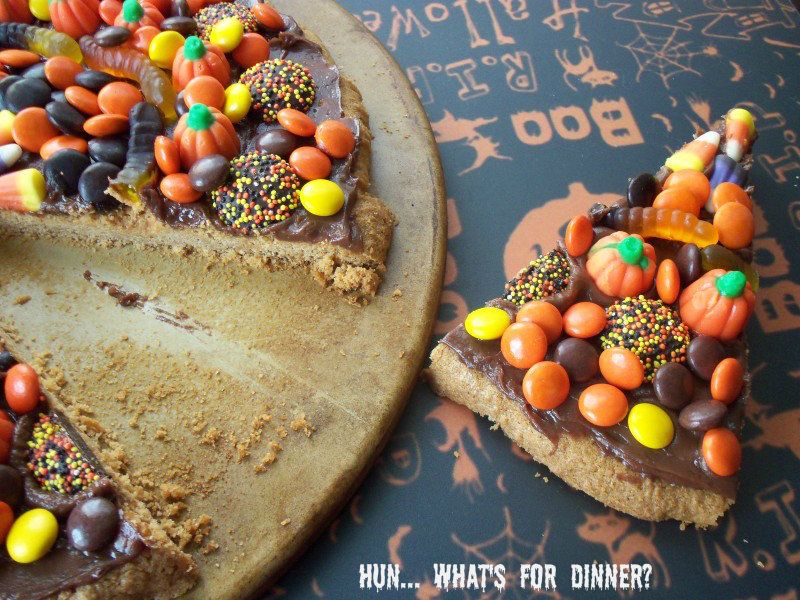 Last Friday, the kids and I make this wonderfully easy Halloween Cookie Pizza. Queenie and I make the cookie base, while Mr.B was at school and all 3 of us decorated it, after school. The kids has such a blast, sampling all the Halloween toppings. It turned out way better than I thought it would and tasted great. I used a simple flour-less peanut butter cookie recipe, for the cookie crust and topped it with a cream cheese Nutella mixture. Topped with a variety of Halloween candies, this cookie pizza is sure to be the hit of any Halloween party!!
Chocolate Peanut Butter Cookie Pizza
printable version
1 C creamy peanut butter
1 egg
1 C sugar
1 tsp baking powder
1/2 C Nutella
1/4 C softened cream cheese
a variety of Halloween themed candies- we used Reese's Pieces, M&Ms, candy corn, gummy worms, candy pumpkins, chocolate buttons
non stick spray
Preheat oven to 350 degrees F. Lightly spray a pizza stone, or cookie sheet, with non stick spray. In a bowl, cream together the sugar and peanut butter, until fluffy. Add in egg and baking powder and mix to combine. Pour out onto center of prepared pizza stone and gently spread out evenly, into a 1/2-inch thick circle. Bake for 20-25 minutes, until edges begin to brown and center is cooked through. Remove from oven and let cool completely, on pizza stone. Once cooled, take an offset spatula and run it around the edge of the cookie, to loosen slightly.
In a second bowl, beat the cream cheese until smooth. Beat in Nutella, until well combined. Spread evenly over cookie base, leaving a 1/4-inch border. Arrange candies onto Nutella mixture, in desired pattern. Cut into wedges and serve.
This post linked to
Recipe Box
Full Plate Thursday
Thursday's Treasures
Tasty Thursdays
Tastetastic Thursday
Foodie Friday
Foodie Friends Friday
Weekend Potluck
Sweets for a Saturday
Church Supper
Life Scoops- Cookie Party