I had been planning on making these all week, but with my Mom here, life has been a little more fun and hectic. The days really seemed to just whiz by and Mom and I always seemed to be rushing home, rushing to school, or rushing to get dinner on the table. So finally, yesterday, I took the time to bring my idea into fruition. I had bought some Halloween sprinkles quite a few weeks ago and wanted to do something different with them. So, I thought Oreo Pops would be perfect. Well, let me tell you, after dipping my 2 first Oreos, I started to regret even thinking of doing this. The warm chocolate was melting the Oreo filling and they were slipping off my lollipop sticks!! As I sat and contemplated just scrapping this whole idea and sitting with the bag of Oreo and a glass of milk, to drown my frustrations; Mom suggested I glue the cookies together and to the lollipop stick with melted chocolate. So we did, and after a quick trip to the freezer, to set, they were ready for a trip in the melted chocolates.
I went with milk chocolate, for the black/orange sprinkles and white chocolate, for the green/purple/black sprinkles. I had some leftover candy corn, so I thought these would be a perfect embellishment for our Oreo Pops. After the voice of reason (Mom) suggested gluing the cookies with chocolate, the pops came together quite easily. They look super cute and they are out of this world. I just love the crunchy cookie, paired with the sweet chocolate. While Mr.B and my Mom prefered the milk chocolate pops, Queenie and I loved the white chocolate ones. These would be perfect for the kids to bring to school, for their Halloween parties!!
Ghoulish Oreo Pops
printable version
1 pkg Double Stuff Oreo Cookies
3/4 C milk chocolate melts
3/4C white chocolate melts
1/2 C each black/orange sprinkles and purple/green/black sprinkles
candy corn ( I used regular and black/purple/white)
16 lollipop sticks
Place chocolate melts into 2 coffee mugs. Cook in microwave for 1 minute and 30 seconds, stirring every 30 seconds, until melted. Stir until smooth.
Gently separate cookies, one at a time. Carefully press a lollipop stick into the Oreo stuffing and cover the filling with a thin layer of melted chocolate and top with top half of cookie. Place in freezer for 15 minutes, to set.
Place sprinkles in small serving plates. Dip, frozen cookies into chocolates, gently tapping them against the rim of the mugs, to shake off the excess chocolate. Place dipped cookies into the sprinkles, making sure all edges are covered. Place finished cookies onto a parchment paper lined cookie sheet, to set. Once you've dipped all cookies, take small dollops of remaining chocolate and put on one side of the candy corns. Place candy corn, chocolate side down, in center of finished cookies. Let set 30-40 minutes, before digging in.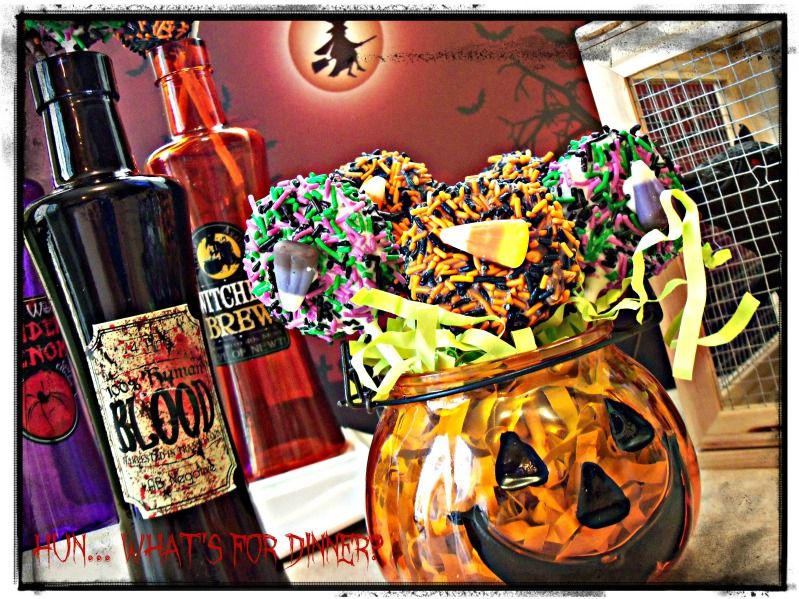 This post linked to
Saturday Show and Tell
Weekend Potluck
Sweets for Saturday
Church Supper
Sunday's Sweet Confessions
Southern Bite- Halloween Blog Party