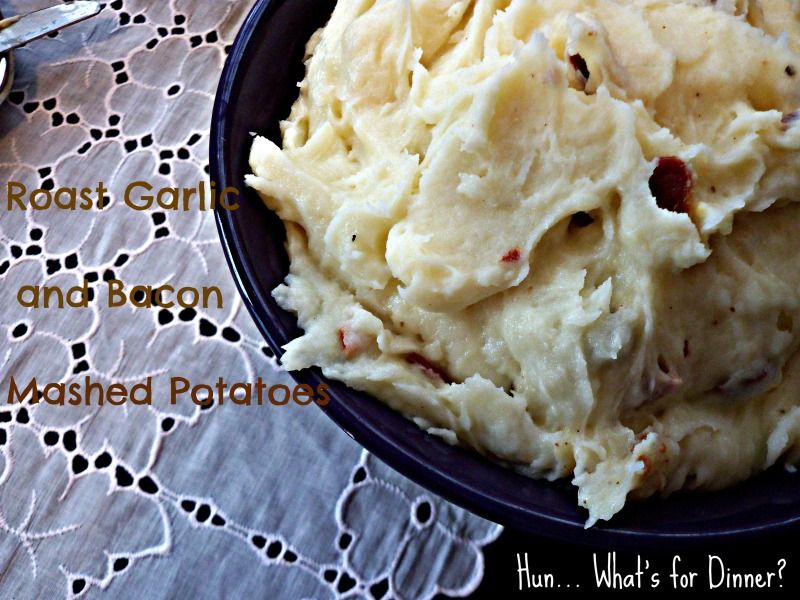 Wow, it's seems like forever, since I last posted. It's hard to be a blogger, when you have company, LOL. Mom and I were super busy and I barely had time to even think about writing up a blog post. I sure did miss it though..... The weather has been getting colder and we've actually had the furnace on a few times already. We've started gearing up for winter, here in Central Ontario. I love when the temperatures drop, because that means I can cook up some hearty comforting foods, to warm our bellies. Things like soups, casseroles, juicy and tender roasts. One of our favourite comfort food side dishes is mashed potatoes. It's one way that I am guaranteed Queenie will eat potatoes. Who wouldn't love silky potatoes, mixed with cream and butter?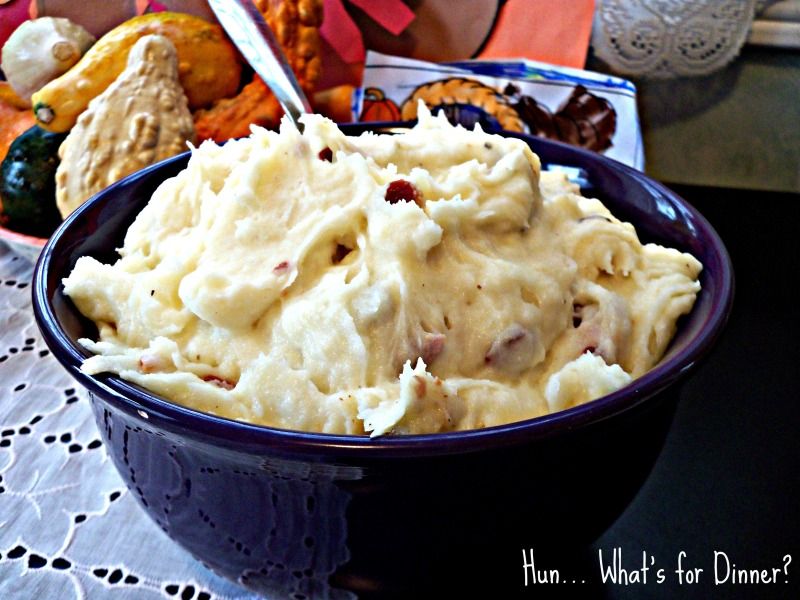 I made this special version of mashed potatoes, for our Thanksgiving dinner, a few weeks ago. These potatoes are over the top. Full of delicious sweet roast garlic and salty bacon, mixed with luscious cream and rich butter. Definitely not figure friendly, but a really great way to make ordinary mashed potatoes, a bit more special, for that special occasion.
Roast Garlic and Bacon Mashed Potatoes
printable version
1 large head of garlic
8 slices of bacon, cooked and crumbled
1 1/2 lbs potatoes
3 Tbs butter
1/2-3/4 C half and half
salt and fresh ground pepper
Cut a small portion off the top of the head of garlic. Place on a small piece of foil, drizzle liberally with olive oil and season with a sprinkle of coarse sea salt. Wrap in foil and place in a 375 degree oven, for 45 minutes, to an hour. Let cool.
In a large pot, cover potatoes with cold water. Bring to a boil, and season liberally with coarse sea salt. Cook until potatoes are fork tender.
While potatoes are cooking, heat half and half and butter, in a small sauce pot, over low heat. Drain the potatoes and return to the hot pot. Take the head of roast garlic and squeeze out soft garlic cloves. Roughly mash potatoes, add in the warm cream/butter mixture and fresh ground pepper. Using a mixer, whip potatoes until fluffy, adding more half and half if needed. Fold in crumbled bacon and taste for seasonings; adjusting if needed. Serve warm.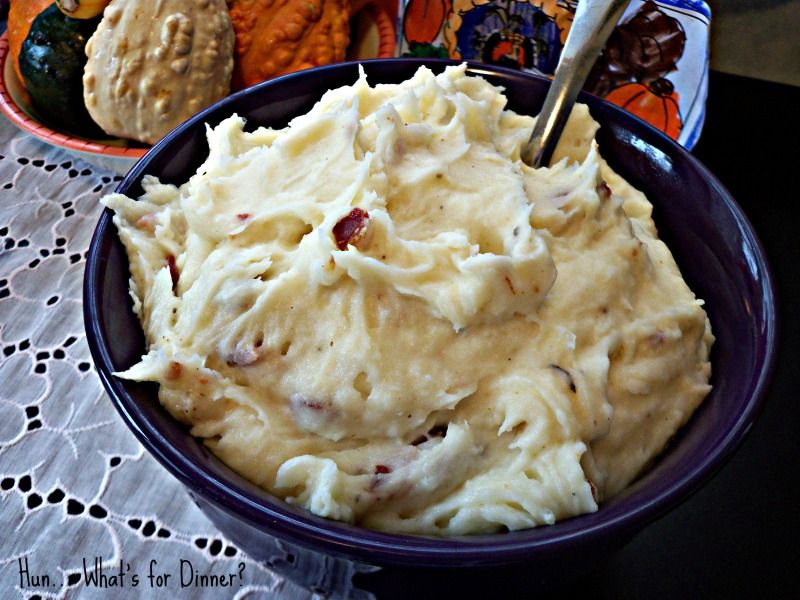 This post linked to
Recipe Box
Full Plate Thursday
Tastetastic Thursday
Thursday's Treasures
Foodie Friends Friday
Weekend Potluck