Susan, Jeanine, me and Marisa at Canada's Baking and Sweets Show
Boy, what a weekend I had. My good friend and fellow Canadian blogger, Jeanine from
The Baking Beauties
, had won tickets to
Canada's Baking and Sweets Show
, this past weekend. Of course I had planned to join her at the show, but 2 weeks back, I was notified that a recipe I had entered made it to the finals, at the show. How cool is that?!? So, off to Toronto I went and stayed over night with Jeanine and her Mom, Susan. It was such a fun show and we also got to meet our friend and another great Canadian foodie/blogger, Marisa from
Tasty Delights
. The Home Baking finals were beyond stressful, since the judges seemed to think they were on an episode of Chopped, rather than judging us home cooks. Thankfully my muffins were good enough to not get trashed by the judges AND I won in my category!! The only downfall of this weekend, is that I found out that getting older is no fun and that I've turned into an old lady, in my 30s, LOL. I am still trying to recuperate and get back into my kitchen.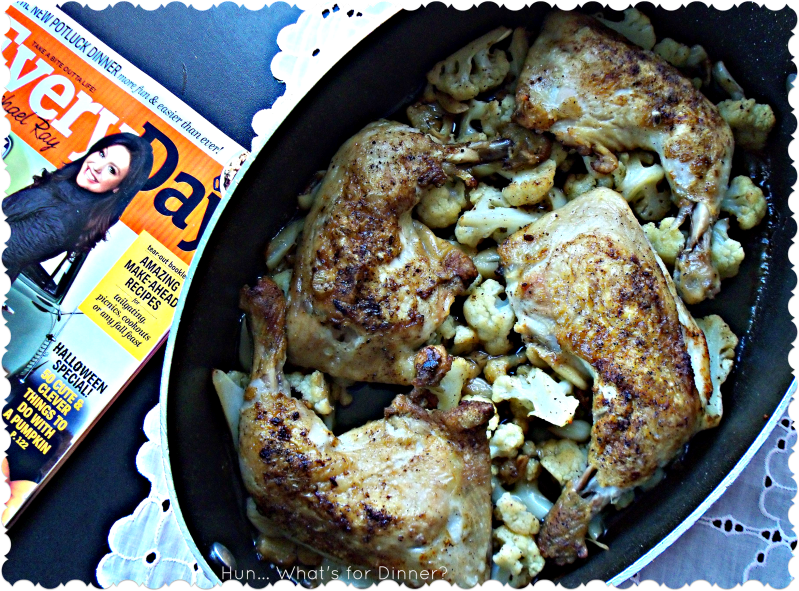 In the October issue of Every Day with Rachael Ray, I had seen a recipe for chicken and cauliflower. The picture in the magazine caught my eye and I dog eared the page to try. I am so glad I did!! This was phenomenal!! Just writing about it, makes me want to make it again for dinner tonight, LOL. I LOVE roasted cauliflower, so I knew this one would be a hit. I was a little unsure of the amount of garlic though, but was so pleased to see that it had roasted, caramelized and turned into a soft savory sweet treat. I served the chicken and cauliflower with some Roast Garlic and Chili Naan bread and loved slathering the bread with the roast garlic. This recipe was unbelievable quick and amazingly delicious!! It will be in my rotation for those nights where I don't have much time for dinner prep, but still want an amazing meal.
Roast Chicken and Cauliflower
Adapted from Every Day with Rachael Ray Oct 2012
4 whole chicken legs
3 Tbs extra virgin olive oil (EVOO)
4 C cauliflower florets
12 cloves of garlic, peeled and smashed
Preheat oven to 400 degrees.
Pat chicken dry and season with salt and pepper. In a large skillet, heat EVOO over high. Add the chicken, skin side down; cook until browned, 8 minutes. Turn over; cook until browned, 5 minutes. Transfer to a plate. Add cauliflower and garlic to skillet. Cook until cauliflower begins to brown; 5 minutes. Top with chicken; bake until chicken is cooked through, 25 minutes. Serves 4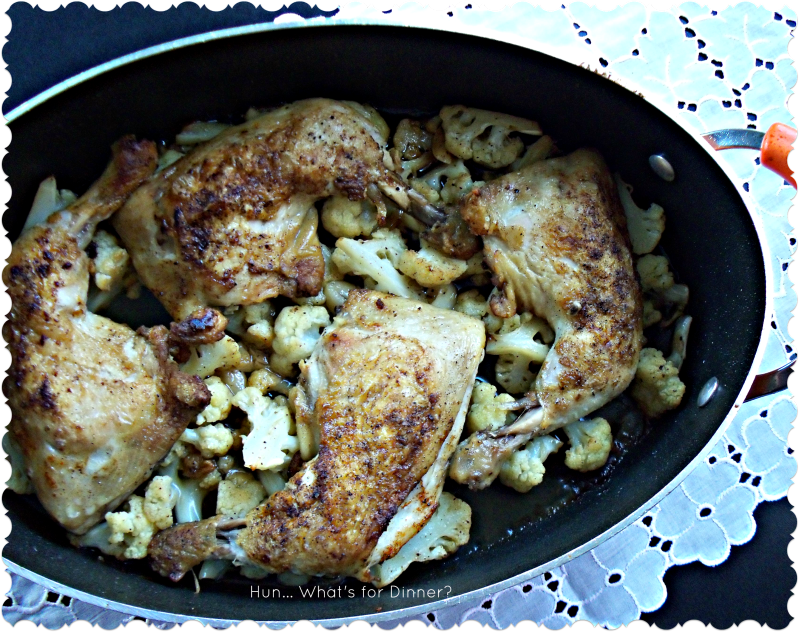 This post linked to
See Ya in the Gumbo
Tasty Tuesdays
Delicious Dishes
Hearth and Soul
Tuesdays at the Table