I've been blogging for 4 yrs now, and lately I've found that I'm having difficulty writting posts. I'm not sure if it's because I am busier than usual, but my creative writting juices are not flowing. Like today's post..... I want to share these really great scones with you, but I have no clue what to write. I could go into how it's cold and rainy outside lately, so we've been eating a lot of soups, and that I love having bread, biscuits or scones with our soup. I could say that I wanted a different fool proof way to get veggies into my children, without them complaining (though they never really complain about broccoli), or I could just go ahead and give you the recipe.
These scones are very biscuit like, in looks and texture. I love that they are studded with pieces of tender broccoli, paired with a great cheese flavour. They're super yummy slathered in butter, dunked into some sort of soup. They're even good a few hours later, as a snack. A different, but delicious way to make scones!!
Broccoli Cheddar Scones
printable version
3 C all purpose flour
2 1/2 tsp baking powder
1 tsp salt
1/2 tsp garlic powder
1/4 tsp onion powder
1/2 C (1 stick) cold butter, cubed
1/2 C cooked broccoli, chopped
1/2 C Old Cheddar
2 eggs
1/2-3/4 C milk
Preheat oven to 375 degrees.
In a large bowl, mix together the flour, baking powder, salt, garlic and onion powders. Cut in butter, until mixture ressembles coarse crumbs. Add in broccoli and cheddar, stirring to combine. In a 1 C measure, beat the eggs and add milk to fill the cup. Pour into flour mixture and mix to form a dough; adding more milk, if too dry. Knead in bowl, about 10 times. Gently press out on a lightly floured surface, leaving dough quite thick; about a 1/2 inch thick rectangle. Using a Chef knife or pizza cutter, cut biscuits as big of little as you'd like. Place on a parchment lined baking sheet and bake for 20 minutes; until nice and golden.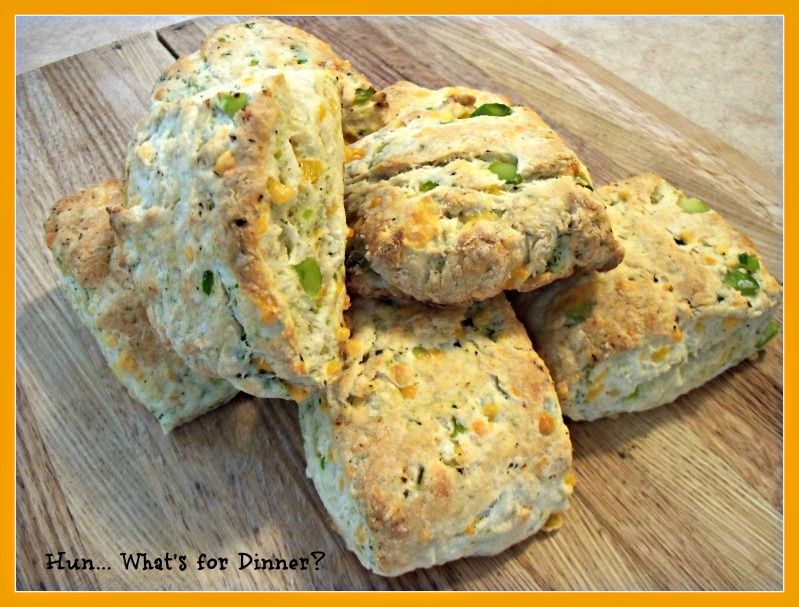 This post linked to
Hearth and Soul
Recipe Box
Thursdays' Treasures
Full Plate Thursday