When you think of Canada, a few things immediately come to mind- snow, red and white, the maple leaf and butter tarts. Nothing screams Canada like a little tart filled with gooey sugary filling, nuts and raisins. My Mom always makes
butter tarts
for Christmas, and never the rest of the year. I think it's because they are such a special dessert, that she wants to keep it to one of the most special times of the year. And since I've grown up with butter tarts at Christmas, I've continues the tradition, in my own home. So, what happens when you get a butter tart craving, and it's not Christmas? Well, my Mom shared this recipe with me years ago and I've finally gotten around to making Butter Tart Muffins. All the flavour and goodness of butter tarts, in muffins!!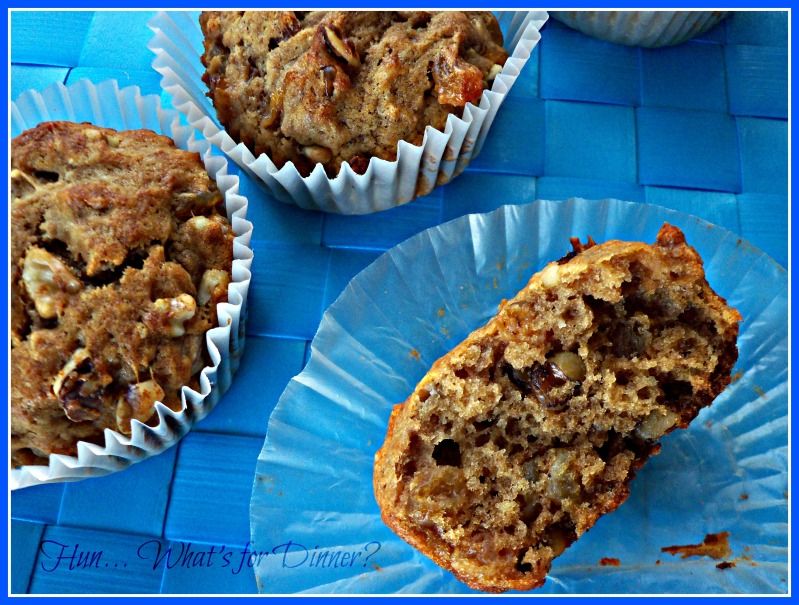 These are crazy amazing! So tender and moist, filled with plump juicy raisins and earthy crunchy walnuts. They aren't very sweet, but the raisins adds that pop of sweetness needed. Super easy to whip up, though you have to be a bit patient about letting the raisins cool, after you've plumped them up. I was a bit impatient and threw the raisin mixture in while it was still warm and I really thought I ruined the muffins. The heat activated the baking powder and when I folded in the nuts and raisins, all that airiness deflated. I was positive I was going to have flat rock hard muffins, but thankfully they worked out. So, not to self- BE PATIENT!! LOL
Butter Tart Muffins
printable version
1 1/2 C raisins (I used golden raisins)
2/3 C sugar (I used coconut palm sugar)
1/2 C butter
2 eggs beaten
1/2 C milk
1 tsp vanilla
1 1/2 C flour
2 tsp baking powder
1 tsp baking soda
pinch of salt
1/2 C walnuts, chopped
In a sauce pan, cook the raisins, sugar, butter, eggs, milk and vanilla; over medium heat for 4-5 mins, or until slightly thick. Cool in the refrigerator, until no longer hot.
Preheat oven to 350 degrees F and line muffin tins.
In a mixing bowl, stir together the flour, baking powder, baking soda and salt. Add the cooled raisin mixture and stir gently, until just about combined. Fold in raisins, until just combined. Scoop batter into lined muffin tins and bake for 10 minutes; until toothpick inserted comes out with a few crumbs.
This post linked to
Tasty Tuesday
Tuesdays at the Table
See Ya in the Gumbo
Delicious Dishes
Hearth and Soul