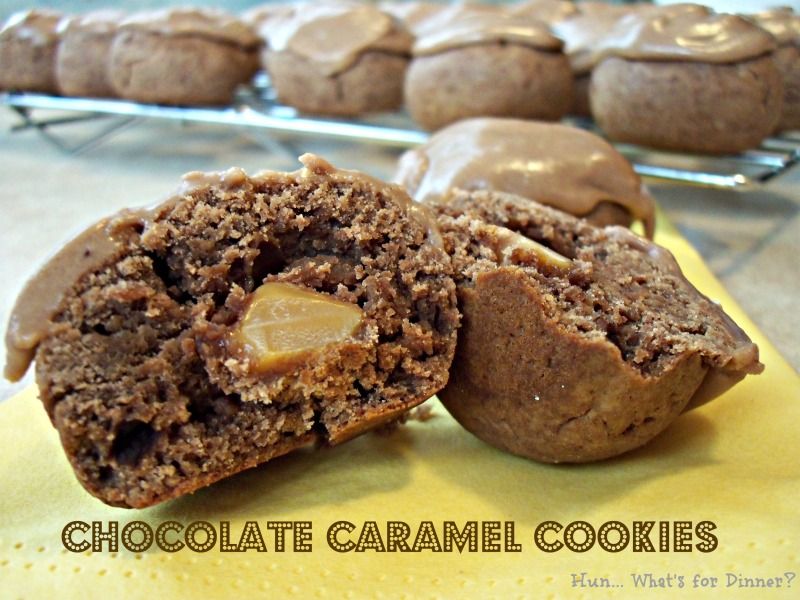 Halloween was this past Wed and boy was it a full and busy day. I helped in Queenie's kindergarten class all day and it was so much fun! I loved seeing the kids all dressed in their costumes and I loved helping all 3 kindergarten classes make tissue paper ghosts. Then it was home, to prepare for some trick or treating. Despite the rain, the kids had a blast and came home with 2 huge bags full of treats. After going through and sorting the goodies, I was left with a big pile of caramels. The kids aren't too keen on them, so I decided to turn them into cookies.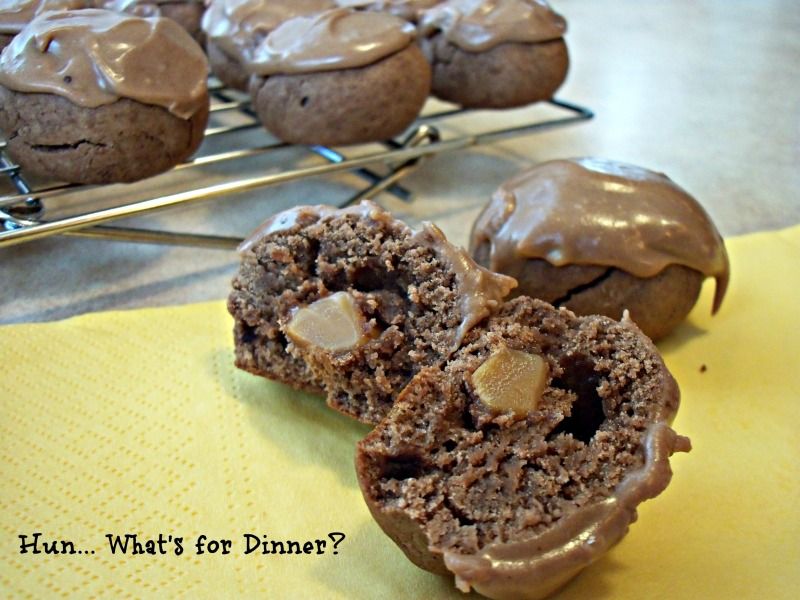 These cookies are really good. Tender and chocolatey, with a great chewy caramel center. Using cream cheese in cookies always gives them such a soft almost silky feel in your mouth. The kids thought it was pretty neat that these cookies were ball shaped and had a nice caramel surprise in them. Super simple to make, the dough is quite thick and hard to stir, but that is the consistency needed, for it to stick together and cover the caramel. These are great afternoon school snacks, or perfect for company coming for coffee.
Chocolate Caramel Cookies
adapted from COOKIES! a Cookie Lover's Collection
printable version
1 pkg (8-oz) cream cheese, softened, divided
1/2 C paked brown sugar
1/2 C (1 stick) butter, softened
1/4 C sugar
1 egg
1 tsp vanilla
2 C flour
1/4 C unsweetened cocoa
1 tsp baking powder
18 caramels, cut in half
Frosting:
1 1/2 C powdered sugar
2 Tbs unsweetened cocoa
2 Tbs caramel ice cream topping
2-3 Tsp milk
Preheat oven to 350 degrees F. In a large mixing bowl, combine 6 oz cream cheese, the brown sugar, butter, sugar, egg and vanilla. Beat at medium speed, until light and fluffy. Add flour, 1/4C of cocoa and baking powder. Beat at low speed until a soft dough forms.
Shape 1 measuring tablespoon of dough around 1 caramel half, to for 1-inch balls. Repeat with remaining dough and caramel halves. Place balls 2-inches apart on un-greased cookies sheets. Bake for 10-14 minutes, or until set. Cool completely.
For Frosting:
In a small mixing bowl, combine remaining cream cheese with frosting ingredients. Beat at low speed until smooth. Spread the frosting evenly on cookies. Let dry completely, before storing.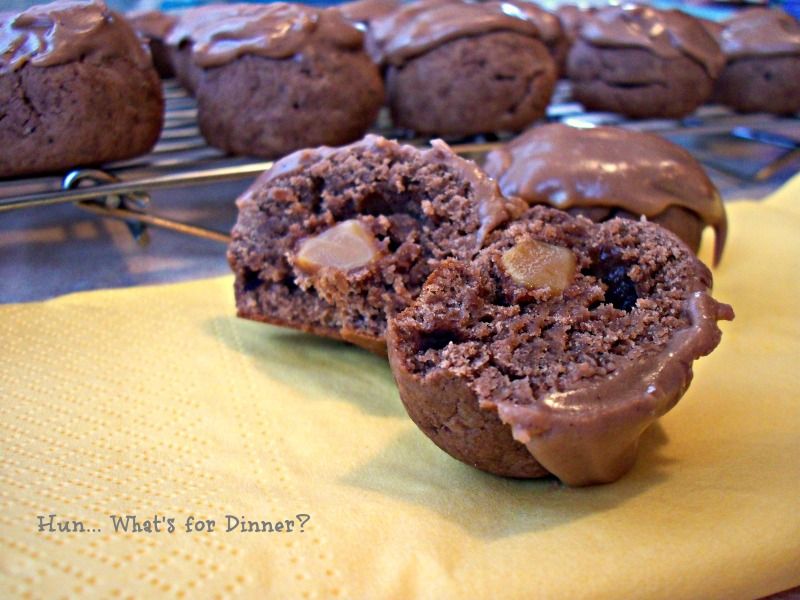 This post linked to
Foodie Friends Friday
Foodie Friday
Saturday Show and Tell
Weekend Potluck
Sweets for Saturday
Church Supper
Sunday's Sweet Confessions