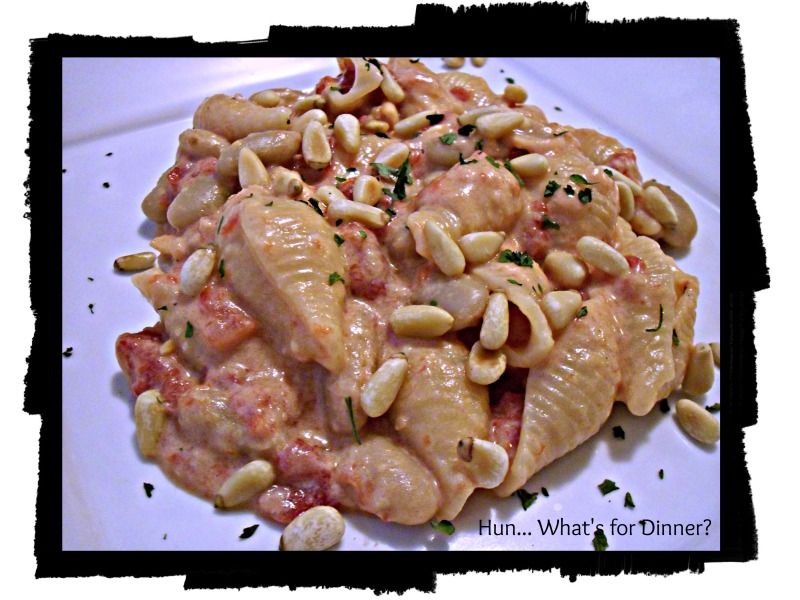 Ever have one of those days, where you want something comforting and delicious for dinner, but you don't really feel like cooking? That totally happened to me on Sunday. I think it had a lot to do with the time change and spending a rough night, due to tummy issues. Sunday, thanks to the extra hour, felt like the longest day on earth, LOL. By dinner time, I was ready to pack it up for the day, but was also famished. I wanted something comforting, but didn't want to spend more than 20-30 minutes making dinner. So, I decided to make some pasta, with a luscious blush sauce. The whole dish took about 20 minutes to prepare and Mr.B and I sat down to a spectacular pasta dinner.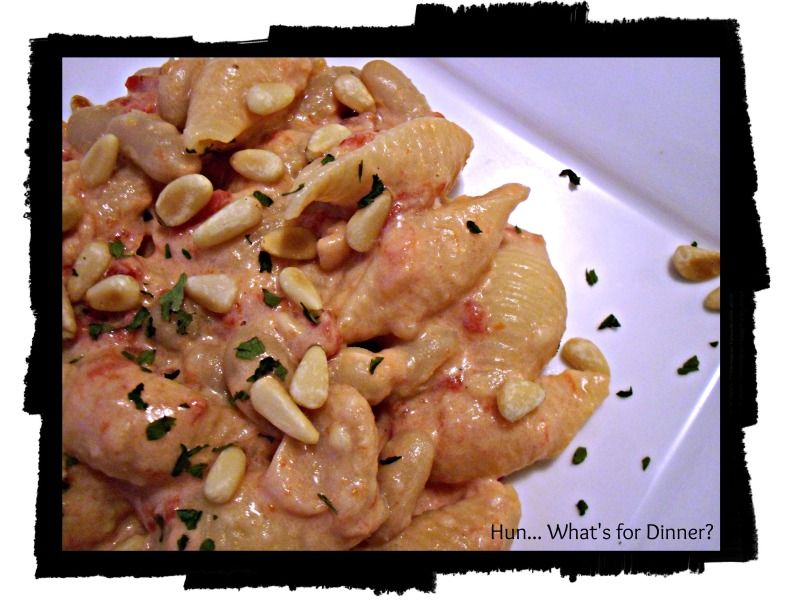 Queenie?? Well, she took one taste of the pasta and decided to wait for breakfast the next morning. Since she was totally fine with her decision, I didn't argue..... I just enjoyed my dinner, best I could. I totally loved the lusciously creamy sauce, paired with sweet tomatoes and buttery beans. I decided to top the pasta with toasted pine nuts and they just added another level of creamy crunch to the pasta. Mr.B had two servings and Hubby gladly ate up the rest, once he came home from work. Now if only I could convince Queenie to LOVE pasta and cream sauce, all would be right with this recipe, LOL.
Tomato and Bean Pasta in a Blush Cream Sauce
printable version
1/2 lb of medium sized shell pasta
2 Tbs olive oil
3 large cloves of garlic, minced
1/2 C half and half
1/2 C low fat milk
1/2 C white wine
1 14.5 oz can diced tomatoes
1 14.5 oz can white beans (cannelini or white kidney beans)
1/4 C grated Parmesan
1 Tbs butter
pinch of sea salt
fresh ground pepper
parsley finely chopped for garnish
1/4 C pine nuts
Bring a large pot of salted water to a boil. Add in shells and cook according to package directions; to al dente.
While pasta is cooking, heat olive oil in a large skillet. Add in garlic and cook until fragrant; about 2 minutes. Pour in cream and wine; simmering until reduced by half. Add tomatoes and their juices, salt and pepper and simmer until nice and thick; about 5 minutes longer. Once sauce is thickened, stir in butter, beans and Parmesan cheese.
In a small skillet over medium heat, toast the pine nuts until slightly golden and fragrant. Set aside.
Drain pasta and add it to the sauce in the skillet. Toss to coat, remove from heat and let sit a few minutes, to absorb the sauce. Garnish with parsley and pine nuts. Serve with extra grated Parmesan, if desired.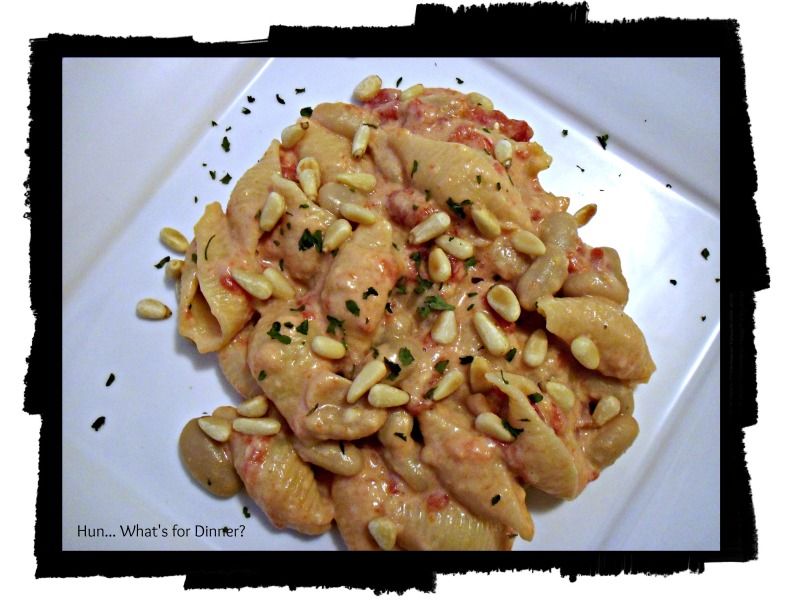 This post linked to
See Ya in the Gumbo
Hearth and Soul
Tuesdays at the Table
Delicious Dishes
Tasty Tuesdays
Wednesday Extravaganza
Real Food Wednesday