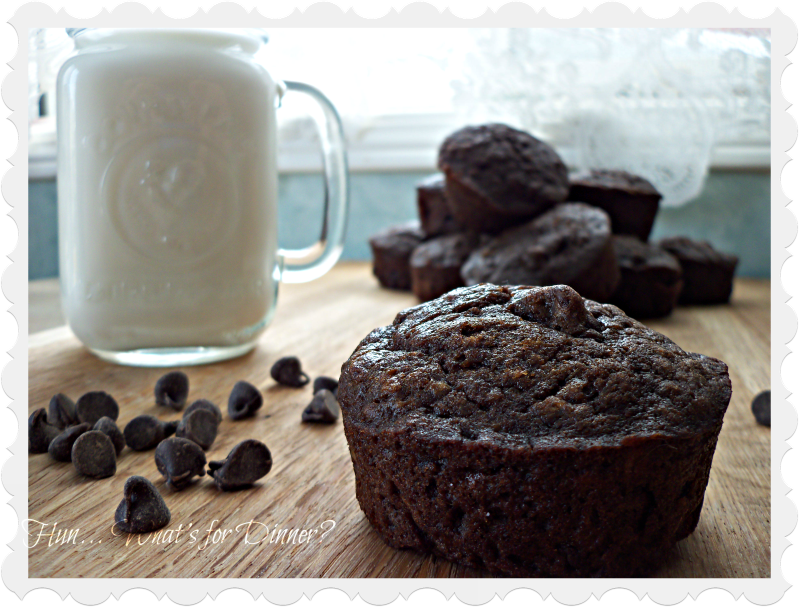 Ah bananas again.... yup, I'm always baking with these and trying to find new ways to use them. We always have bananas in the house, since I need to eat a diet high in Potassium. They're the easiest, fastest way I know of making sure I get the potassium I need during the day. The only problem is, they ripen faster than we eat them. I like bananas on the under ripe side, so my optimum eating time frame is short. Once they get passed that point, into smoothies they go. But sometimes they are so ripe that I just HAVE TO make muffins with them. Not because I think it's the only way I can use them, but because I love making banana muffins.
This time I decided to go with a double chocolate version of banana muffins. Let me tell ya, if the kids could have eaten all of these in one sitting, they would have. They were rich, chocolately, sweet and moist. Even the kids at school were eyeing them up, when I was having my lunch with them on Monday, LOL. These are great as lunch box treats, or after school snacks.
Double Chocolate Banana Muffins
printable version
2/3 C brown sugar
2 eggs
1/3 C canola oil
1 C mashed bananas (about 2)
1 tsp vanilla extract
2 Tbs strong brewed coffee
1 1/2 C flour
1/2 C cocoa powder
1 tsp baking soda
1/2 tsp salt
1 C semi-sweet chocolate chips
Preheat oven to 350 degrees F. Spray a 12 count muffin tin with cooking spray and set aside.
In a mixing bowl, beat the eggs and sugar until light and fluffy. Mix in oil, vanilla, coffee and bananas; mixing well to combine. In a small bowl mix together the flour, cocoa powder, baking soda and salt. Pour dry ingredients into wet and mix, until almost combined. Fold in the chocolate chips, making sure to not over mix.
Fill prepared muffin tins to two thirds full and bake for 15-20 minutes, until toothpick inserted in center, comes out clean.
This post linked to
Wednesday Extravaganza
Recipe Box
Full Plate Thursday
Foodie Friends Friday
Saturday Show & Tell
Weekend Potluck
Church Supper