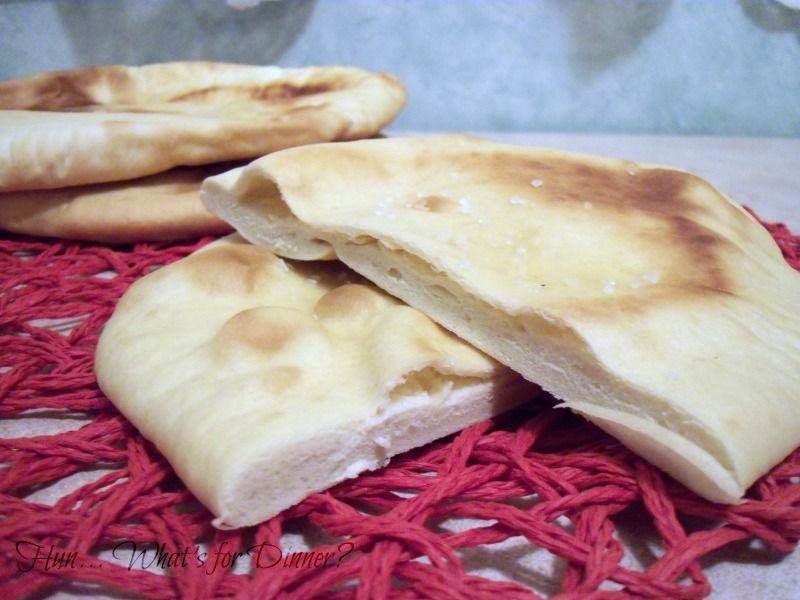 Naan bread is one of those items I'd see at the store and buy and wonder how difficult it would be to make. We love Nann and eat it often. Mostly as a side dish alternative to pasta, rice, or potatoes. Sometimes I use it to make quick pizzas, for easy weeknight dinners. I've recently been browsing through some of my cookbooks and while perusing Betty Crocker's Big Red Cookbook (2011), I stumbled across a recipe for Naan bread. When I was trying to think of a side dish for dinner on Sunday night, I kept thinking Naan bread, but didn't have any in the freezer. I decided to look the recipe up and found that it wasn't that time intensive. So, I got into the kitchen and got to work.
I like this recipe because you can make it in steps, which is often great for me. I made the dough and let it rest for 30 minutes, which gave me time to prep dinner. The I separated the dough into 4 equal parts and let it rest another 20 minutes, which gave me time to start dinner. It baked up in no time and we enjoyed wonderful, soft, delicious warm Naan bread for dinner. The kids loved it, as much as our regular store bought brand. I'm glad to have conquered this recipe and to have learned to make a food we love, from a different culture.
Naan
Betty Crocker Big Red Cookbook 2011
printable version
3 C flour
1 Tbs sugar
2 tsp baking powder
1 tsp salt
1/2 tsp baking soda
1/2 C milk, slightly warmed
2 Tbs vegetable oil
about 1/4 C water (I used about 1/2 C)
2 Tbs butter, melted*
In a large bowl, sift together flour, sugar, baking powder, salt and baking soda. Mix warm milk and oil; stir into flour mixture. Stir in warm water, 2 Tbs at a time, until dough leaves side of bowl and forms a fairly stiff ball. The dough should not be sticky or dry.
Knead dough in bowl or on lightly floured surface 2-3 minutes or until dough becomes smooth and pliable. Brush dough lightly with some of the melted butter and cover with plastic wrap; set aside 30 minutes. (At this point, dough can be covered and refrigerated up to 24 hrs. When ready to roll, let dough stand at room temperature 30 minutes so it becomes soft and easy to handle).
Heat oven to 450 degrees F. Place round or square pizza stone in oven to heat.
Divide dough into 4 equal pieces. Shape each into a ball; brush each lightly with some of the butter. Cover and let stand 20 to 30 minutes.
Working with one piece of dough at a time, roll into 8-inch circle or teardrop shape, about 1/4 inch thick, on lightly floured surface, taking care not to tear dough. Repeat with remaining dough.
Place dough on hot pizza stone and bake 3 to 4 minutes or until brown spots form and bubbles start to appear on surface. Turn; bake 7 to 8 minutes. Remove bread with a spatula; brush lightly with remaining butter. Wrap cooked breads in foil to keep warm, while cooking remaining dough. Cut each bread in half to serve.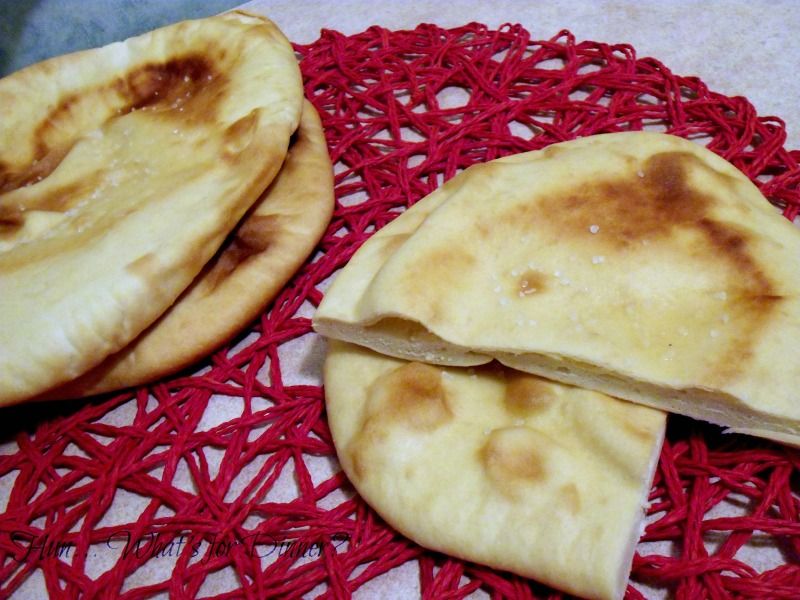 This post linked to
See Ya in the Gumbo
Manic Monday
Tasty Tuesday
Hearth and Soul
Tuesdays at the Table
Delicious Dishes