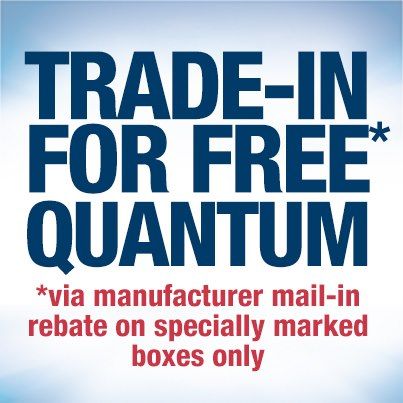 Guess what??? We are finally getting a new dishwasher, in the morning!! I am beyond excited!! When we moved in here, I was very frustrated with our dishwasher. It was loud, it NEVER cleaned our dishes properly and it left a nasty white residue all over our dishes. Then one day, Hubby bought some Finish Dishwashing Detergent, since it was on sale, and we've never been back to our old brand. The first time I used Finish, I couldn't believe how clean and sparkly everything was. It even got rid of the nasty white residue that had become a permanent part of our dishes. I was BEYOND happy and have been ever since. We are now loyal FINISH QUANTUM users and love the results we get from it. You can
click here
to see how I put it to the test.
Now it's your turn to join the Finish Revolution and try FINISH QUANTUM for free!! You heard me right;
at participating Walmart stores across Canada, between December 7-9, 2012, the Finish Quantum team will be hosting "Trade-In" Events, at which consumers can bring in their empty dishwasher detergent and trade it in for a FREE* specially-marked box of Finish Quantum. *Each box will have a mail-in rebate for a full refund – so essentially, trade in your empty box for a FREE box of Finish Quantum!

Isn't that awesome!! And I promise once you try it, you'll forget about your old detergent brand.
To
find out participating Walmart locations, visit the Finish Canada Facebook page.
"Disclosure – I am participating in the Finish Quantum Trade In Event Blog Tour by Mom Central Canada on behalf of Finish. I received compensation as a thank you for participating and for sharing my honest opinion. The opinions on this blog are my own."