Merry Christmas everyone!! My family and I wanted to wish all of you a blessed and safe Christmas

!
You are probably thinking I've totally lost my mind, or I am very confused. But no, I am simply wishing you an early Merry Christmas. Tomorrow, the kids and I will be leaving for Western NY, to celebrate Christmas with Hubby's side of the family. Hubby will meet us there, on the 23, since he still needs to work. So, this will be my last post, until after Christmas.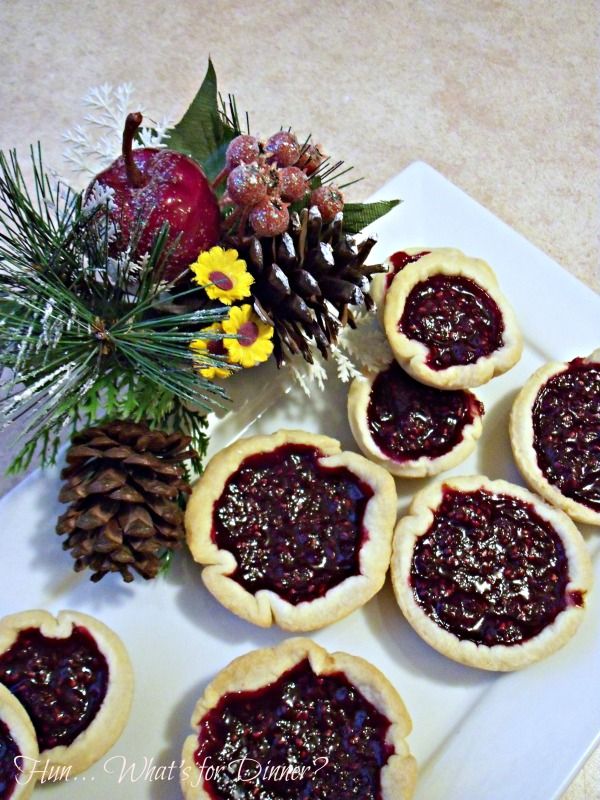 Growing up, my Mom would bake for weeks and weeks, before Christmas. Day after day she would make new deliciously amazing desserts and freeze them for Christmas. Oh how we longed for the days to speed up, so we could dig into the donuts, squares, chocolate and cupcakes coming out of our kitchen, that were destined for a chilly slumber until Christmas Eve. I can't tell you how many times, I snuck down to the basement, to sample a frozen dessert; which didn't taste as good as when thawed, but they were still quite yummy. One of the whole family's favourites were my Mom's raspberry, or wild strawberry tarts. You could bet they were the first to go, from the dessert tray on Christmas Eve. This year Hubby asked me to make some, since we aren't celebrating with my family. So, using some frozen raspberries, I made the tarts with Mr.B hovering, almost drooling at my every move. They got 2 thumbs up from the boys and I am glad to be sharing some of my childhood with the kids.
Raspberry Tarts
printable version
8 C fresh or frozen raspberries
1 1/2- 2 C sugar (depending on how tart your berries are)
5 C flour
1 lb lard
3 Tbs baking powder
1 tsp salt
1 C water
1 egg
1 Tbs vinegar
In a large pot, over medium heat, combine the raspberries and sugar. Bring up to a boil and reduce heat to low. Let berries simmer, stirring occasionally, until sugar is dissolved and mixture is thick (spoon a small amount into a bowl and let it cool, for thickness. You want it the consistency of jam, since it will thicken slightly when the tarts bake).
While the berries are cooking, combine the flour, salt and baking powder in a large bowl. Cut in the lard, until mixture is crumbly. Using the same measuring cup as the flour, beat the egg, with the vinegar and fill the remainder of the cup with cold water. Pour into flour mixture and mix until a dough forms. Knead briefly, making sure all the flour has been incorporated. Let dough rest in fridge for 20 minutes.
Preheat oven to 350 degrees.
When dough has rested and berries have thickened, roll dough to 1/4 inch thickness and press into regular or mini muffin tins. Fill each tart shell 1/2 full with berry filling and bake for 20-30 minutes; until dough turns golden brown. Let cool for 10 minutes, before removing the tarts to a wire rack to cool.
This post linked to
See Ya in the Gumbo
Hearth and Soul
Tasty Tuesday
Tuesdays at the Table
Delicious Dishes
Foodie Friends Friday
Weekend Potluck
Friday Favourites
Saturday Show & Tell