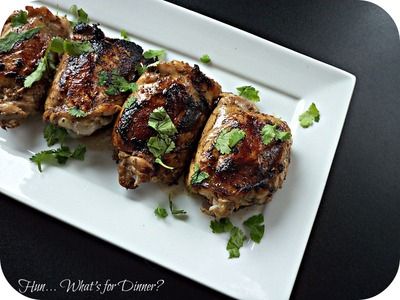 We recently went to visit my parents, at their camp and spent 2 fun filled weeks with them. Upon our return, Hubby had stopped at the grocery store to pick up a few things, but we still didn't have much in the house. I had to get dinner on the table, with what I had in the house, so I quickly searched online for a chicken thigh recipe. The photo that accompanied this recipe, at
For the Love of Cooking
, is what caught my eye and I quickly decided that this would be gracing our dinner table. We never buy red wine vinegar, so I decided to use Balsamic vinegar in it's place.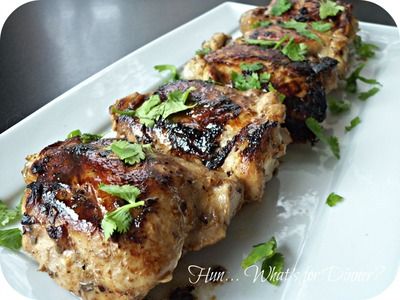 The kids helped me make the marinade and they kept commenting on how delicious it smelled. After a couple of hours in the fridge, the chicken was ready for the skillet. The smell, as I was browning the chicken was deliciously intoxicating. There was the sweetness of the balsamic, paired with tangy lemon and savory garlic. A-MA-ZING!! The chicken was so tender and the flavours were so delicious and complimented each other well. The kids gobbled their chicken up in no time and even asked for seconds; which barely happens with Queenie. A beautiful quick and delicious way to cook up chicken thighs.
Mediterranean Chicken Thighs
Adapted from
For the Love of Cooking
boneless, skinless chicken thighs, trimmed of any fat
4-5 tbsp olive oil
Juice and zest of one lemon
1 tbsp red wine vinegar
2 cloves of garlic, minced
1 tsp dried oregano
Sea salt and freshly cracked pepper, to taste
Combine all ingredients together in a large zip lock bag. Let the chicken marinate in the refrigerator for 2 hours.
Preheat the oven to 350 degrees. Heat the olive oil in a large OVEN PROOF skillet over medium high heat. Coat the skillet with 2 Tbs olive oil. Once the skillet is hot, lay the chicken thighs smooth side down in the pan and cook until golden brown, about 4 minutes. Turn the chicken over and place in the oven. Cook for 8 minutes or until cooked through. Let the meat rest for a few minutes.
Cindy's notes:
I used Balsamic vinegar, in place of the red wine vinegar and bone in, skinless chicken thighs.
This post linked to
See Ya in the Gumbo
Tuesday at the Table
Tasty Tuesday
Hearth and Soul
Delicious Dishes