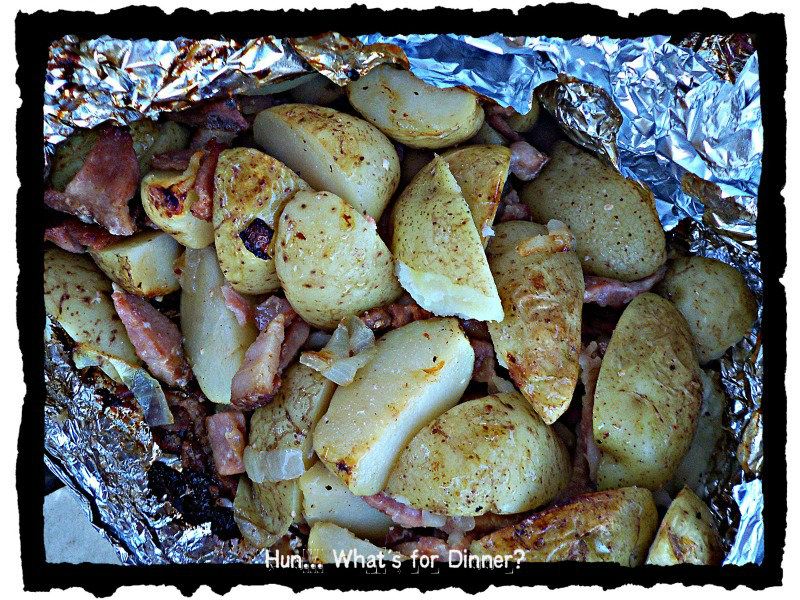 Growing up, Mom would make these all the time. Well, different versions of these, and we called them foil packet potatoes. It's not until recently, that I found out others call them boy scout potatoes. We just like them, because foil packet potatoes are such a yummy way to cook potatoes on the grill, or campfire. And you can switch them up, anyway you want, by adding different seasoning, veggies, bacon and cheese. Growing up, our potatoes were pretty simple, but as I got older Mom would switch them up a bit. Usually Dad had plain ole butter, salt and pepper. We would alternated between tons of green onions in ours, or thinly sliced yellow onion and BBQ sauce.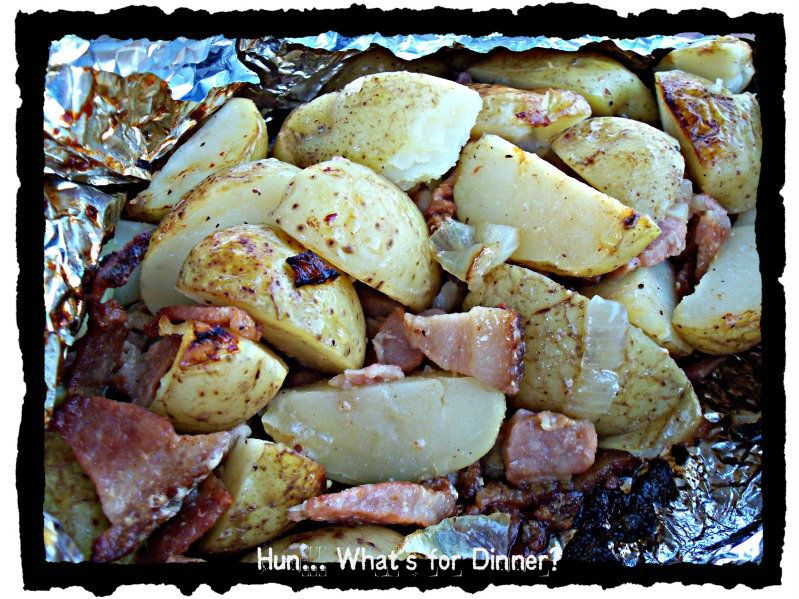 It's not until this summer, that I heard of putting bacon and cheese in the potatoes as well. While I do add bacon, I usually skip the cheese since Queenie is still on her anti cheese kick. The bacon adds a nice salty smoky flavour to the potatoes. If you're lucky, you'll get some nice caramelized potatoes on the edges and those are the best. Kind of like the crunchy cheese bits on lasagna, or chocolate brownie edges...... You can add just about anything to a foil packet, for the grill, but these potatoes are one of our favourites.
printable version
1 lb baby new potatoes, scrubbed clean and cut in quarters
6 slices of bacon, cooked and crumbled
1 small yellow onion, sliced
salt and pepper
olive oil and pepper
foil
Pull out a pretty good length of foil (about 4 feet) and fold in half. Drizzle center of foil with olive oil and place 1/3 of potatoes. Sprinkle with half of the cooked bacon and onions, and season with a touch of salt and pepper. Repeat layers, ending with the last 1/3 of the potatoes and seasoning with salt and pepper. Top with a few TBS of butter. Bring up short sides of foil and fold the seams tightly. Next fold up long sides of foil tightly, so that your oil, butter and potatoes do not escape once on the grill. Cook on the grill, set at medium heat, for 20-30 minutes, flipping half way through. Carefully tear open packet, letting steam escape, before opening completely.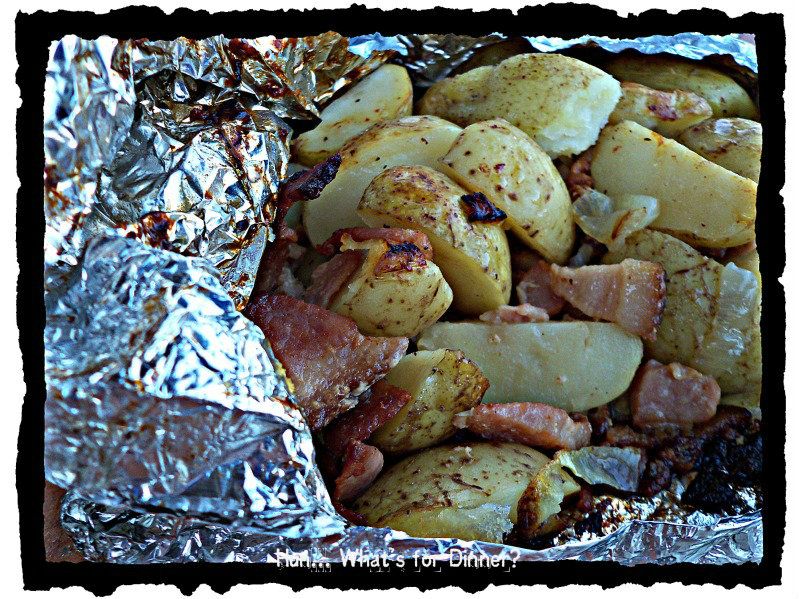 This post linked to
Recipe Box
Full Plate Thursday
Tasty Thursday
Tastetastic Thursday
Thursday's Treasures