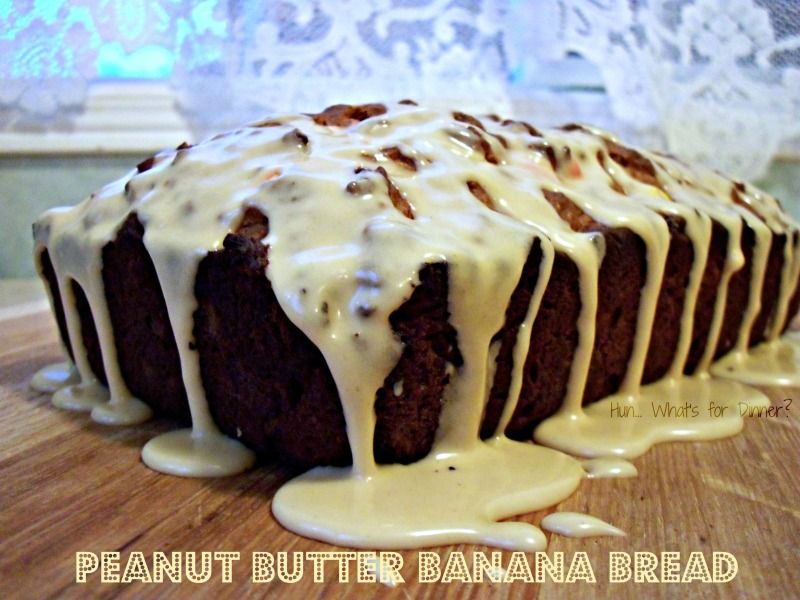 OK, show of hands..... Who's kids still have Halloween candy??? Me, Me!!! Yup, surprisingly we still have quite a bit of Halloween candy left. Not as much as last year, though. Heck, I found myself throwing a bucket full of candy away, a few months before Halloween. This year, I'm trying to be more liberal about the kid's candy consumption, but we still have quite a bit of candy left. So, to help the stash dwindle down a little, I claimed all the Reese's Pieces and decided to add them to a peanut butter banana loaf.
The result was pretty darn tasty. I really liked the peanut butter and banana flavour. Since I cut the sugar down in the loaf, I decided to drizzle it with a peanut butter glaze. HEA-VEN!!! The kids were crazy about this. They could have eaten the whole loaf, in one sitting. That's how yummy it is. Now if only I could figure out what to make with the rest of our Halloween candy, LOL.
Peanut Butter Banana Loaf
printable version
1/4 C creamy peanut butter
1/4 C butter, melted
2/3 C sugar
1 egg
2 large ripe bananas, mashed
1 1/2 C flour
2 tsp baking powder
1 C Reese's Pieces candy
Glaze:
1 Tbs peanut butter
1 C powdered sugar
1-2 Tbs milk
Preheat oven to 350 degrees. Spray an 8.5x 4.5- inch loaf pan with cooking spray. Set aside
In a medium bowl, beat the sugar and peanut butter, until well combines. Add the egg and melted butter and mix well. Stir in the bananas and set aside.
In a separate bowl, mix the flour and baking powder. Stir dry ingredients into wet, until just about combined. Fold in Reese's Pieces candy, until just combined. Pour into prepared loaf pan and bake for 45 minutes to 1 hour; until toothpick inserted in the center comes out clean. Remove from pan and let cool completely, on a wire rack.
For glaze: In a bowl, combine the peanut butter with the powdered sugar. Whisk in 1 Tbs of milk, until smooth. Add more milk if needed, what you are looking for is a slightly thin and pourable glaze. Drizzle half of the glaze over the cooled loaf. Let set and drizzle with remaining glaze.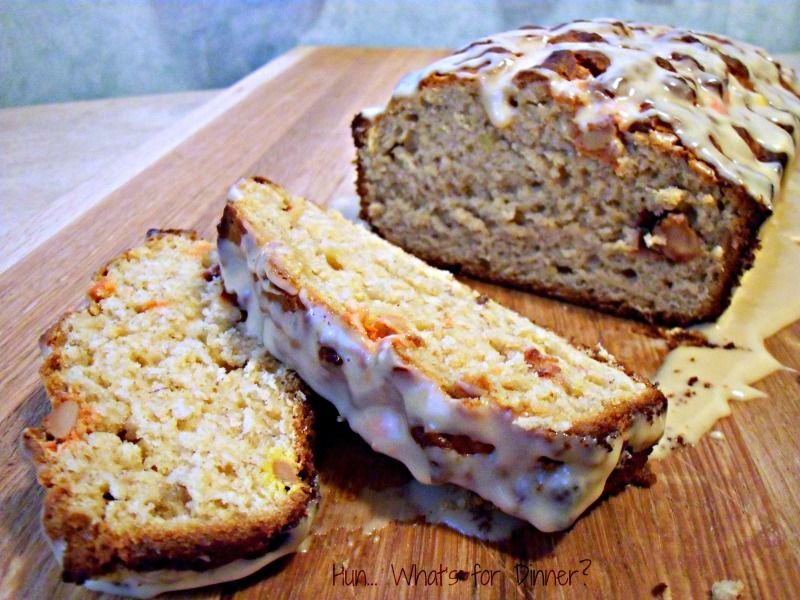 This post linked to
Recipe Box
Wednesday Extravaganza
Thursday's Treasures
Full Plate Thursday
Foodie Friends Friday
Saturday Show & Tell
Sunday's Sweet Confessions
Weekend Potluck
Church Supper