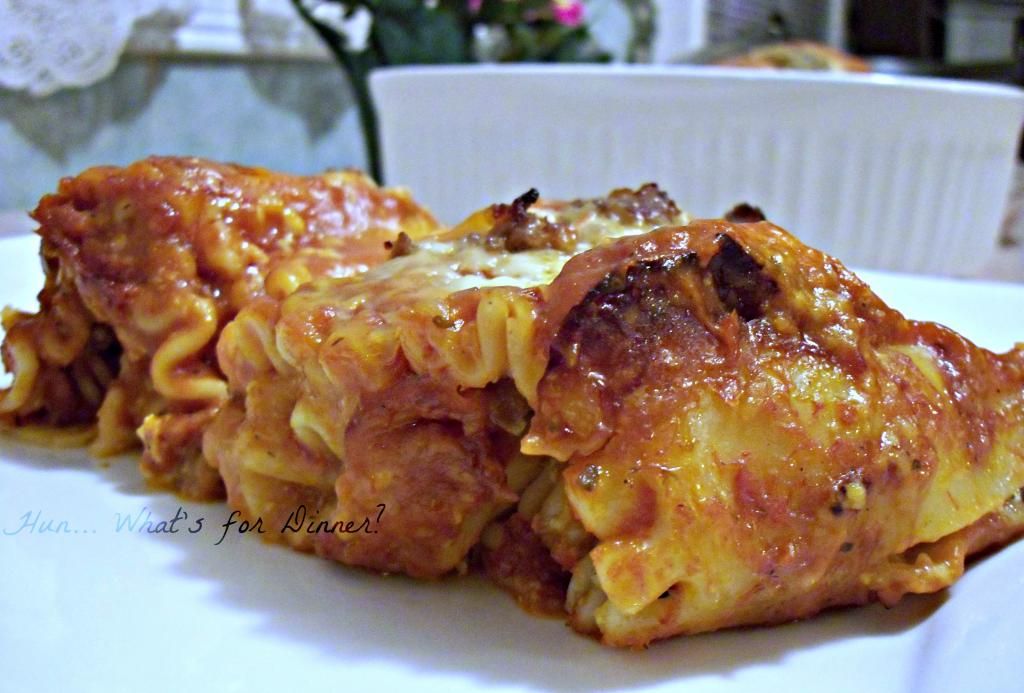 If you've been following me on
Facebook
, you know that I'm having trouble with some picky children. So far this week, we've had no complaints for dinner, which makes me extremely happy. There was a point last week, where I was about ready to throw in the towel, on this whole cooking thing. The kids were never happy with the meals I was making, even if they were meals they had eaten and enjoyed before. The result was one grumpy Mommy, who wasn't enjoying her time in the kitchen. This week, I let the kids pick dinner for one night, each. Which resulted in no complaining and a wonderful dinner time. Last night, was my night to choose our dinner. I wasn't worried, because we had leftovers I knew the kids would love, in the fridge. So, I basically planned dinner for Hubby and I, planning on leftovers for the kids. Worked out wonderfully!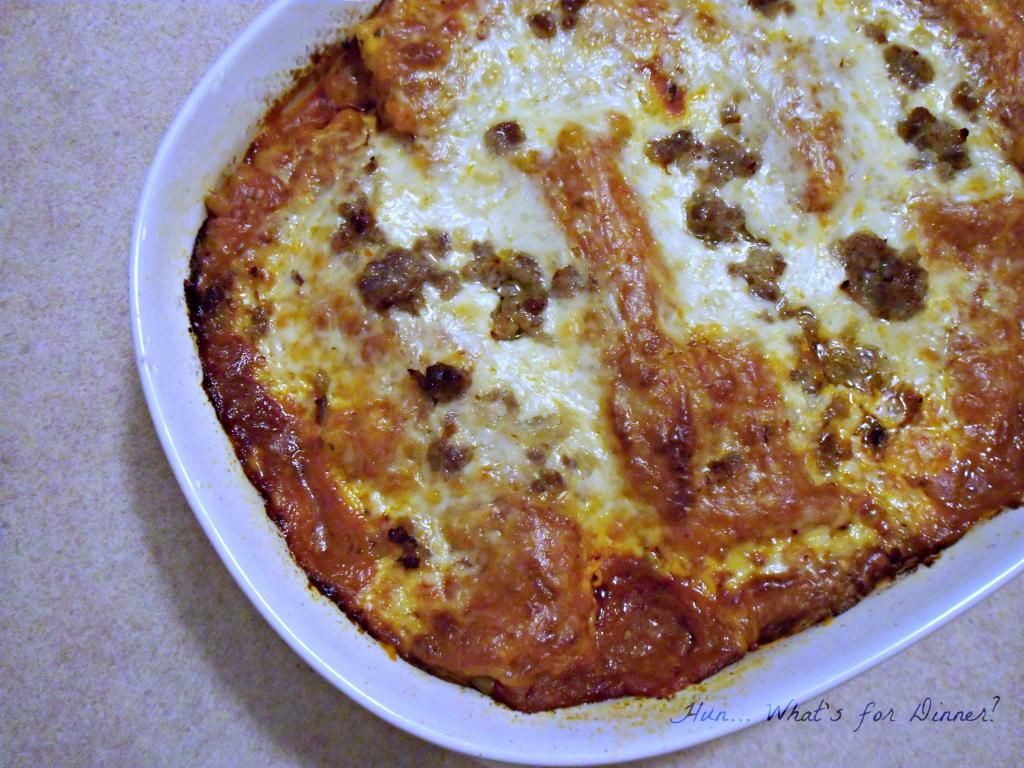 We have a few boxes of lasagna noodles in the pantry, so I decided on lasagna rolls. I found some 5-Cheese Italian Sausages at half price (since they were close to the Best if Used By date), so I decided to incoporate them into the lasagna rolls. The results was a lovely uber cheesy roll of lasagna, that made both Hubby and I swoon. We enjoyed the slight hints of fennel, that would burst through, when we would take a bit that contained sausage. All of us were content with our dinner and not one complaint was muttered. Well, except for Hubby, who complained that I hadn't made more, LOL.
5-Cheese Italian Sausage Lasagna Rolls
printable version
6 5-Cheese Italian Sausage Links (I used Johnsonville)
1/2 an onion, minced
1/2 green pepper, minced
8 oz part skim ricotta
1egg
2 C shredded part skim Mozzarella, divided
3/4 C shredded Parmesan, divided
1 tsp garlic powder
1 tsp dried oregano
1/2 tsp dried basil
generous pinch of salt
fresh ground pepper
4 sundried tomatoes, minced
8 lasagna noodles
1 jar of favourite pasta sauce (we like Bravo)
Preheat oven to 350 degrees.
Preheat a large non stick skillet over medium heat . Remove sausage from cassings and add to hot skillet; breaking it up into small pieces. Once the sausage is browned, add in the onion and green pepper and cook until onion is translucent; about 5 minutes. Transfer to a bowl, to cool.
While the sausage is cooking, bring a large pot of salted water up to a boil. Once the water is boiling, add in the lasagna noodles and cook until al dente; about 8-11 minutes. Drain and lay on a clean surface.
In a bowl, combine the ricotta with an egg, 1 C Mozzarella cheese, 1/2 C Parmesan Cheese, sundried tomatoes, garlic powder, oregano, basil, salt and pepper. Spread cheese mixture evenly onto each lasagna noodle. Evenly top the cheese with the sausage mixture. Starting with a narrow end of the noodle, roll up the noodle, into a roll; repeat with remaining noodles.
Place 1/2 C of pasta sauce in bottom of an oven safe baking dish. Place the lasagna rolls on top of sauce and top with a generous amount of remaining sauce. Sprinkle with remaining cup of Mozzarella, 1/4 C Parmesan and any remaining sausage. Cover and bake for 45 minutes; uncover and bake for 15 minutes, until top is browned and bubbly. Let rest 15 minutes before serving.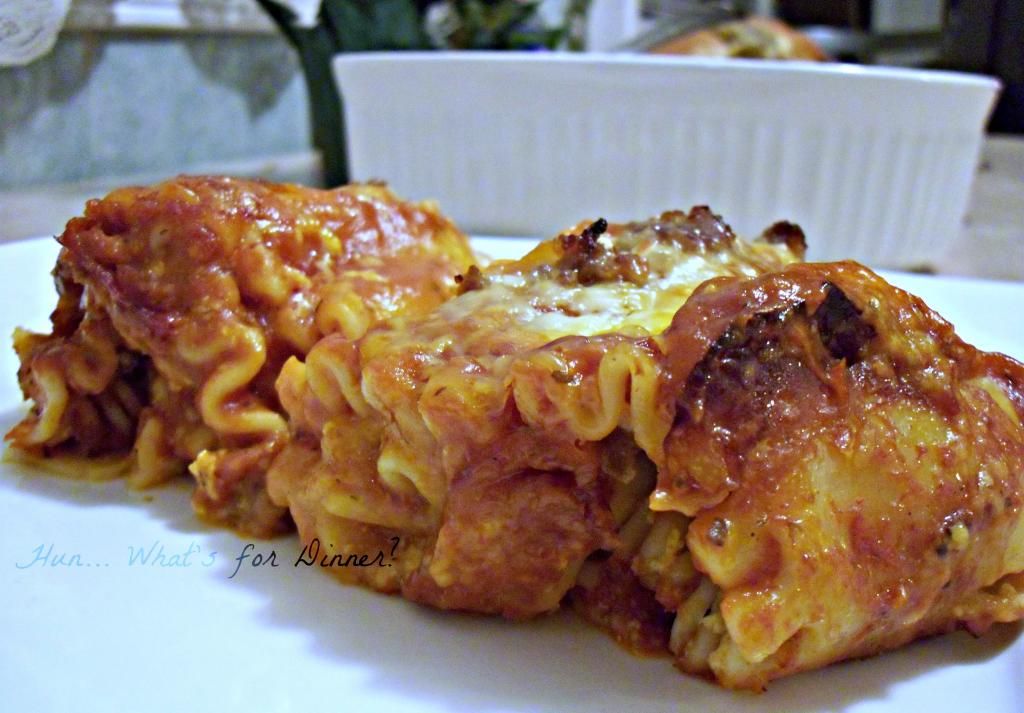 This post linked to
Wednesday Extravaganza
What's Cookin' Wednesday
Recipe Box
Somewhat Simple Link Party
Full Plate Thursday
Thursday Favorite Things
Foodie Friends Friday
Weekend Potluck
Church Supper