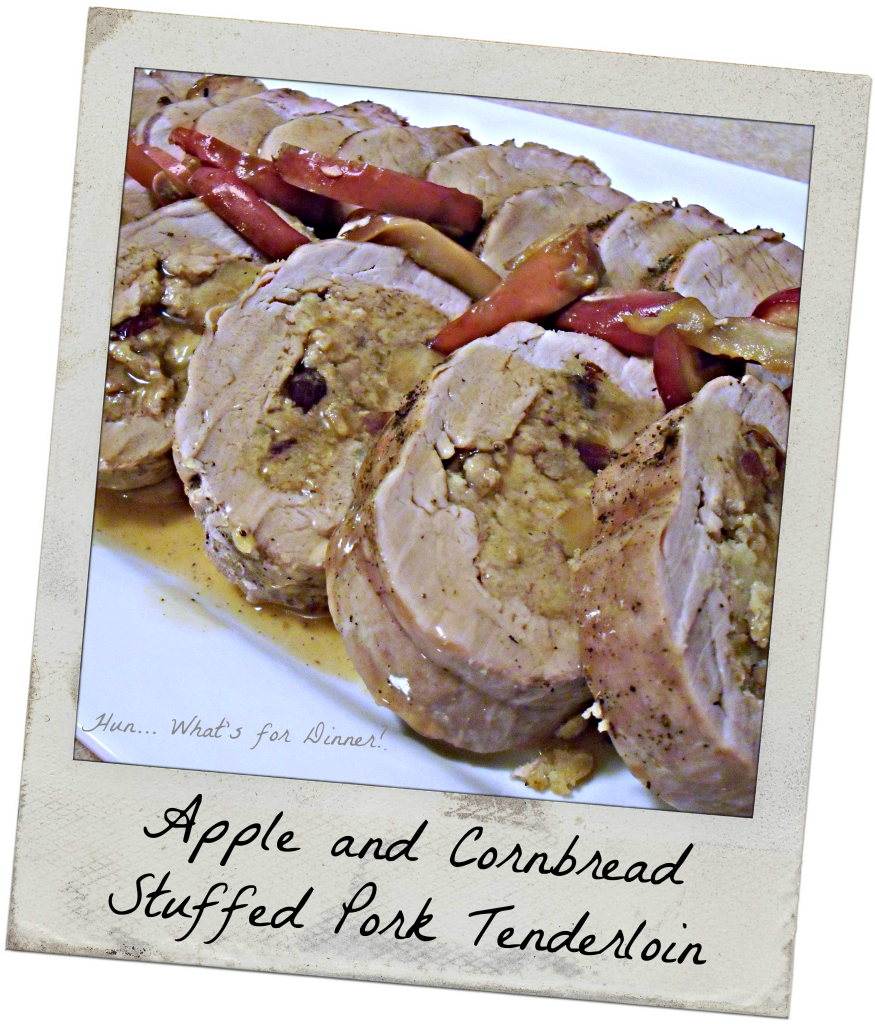 Happy New Year!! 2013 has started and I am convinced that this year is sure to be an amazing one! The kids and I had a great New Years Eve with my Mother in Law. We headed down to City Hall, where they had ice skating, live music, food vendors, horse drawn sleigh rides and face painting. Though we didn't skate, we did enjoy hot chocolate and everything else they had to offer, while trying to keep warm. It was a great way to close out 2012, even though the kids didn't make it until midnight, LOL.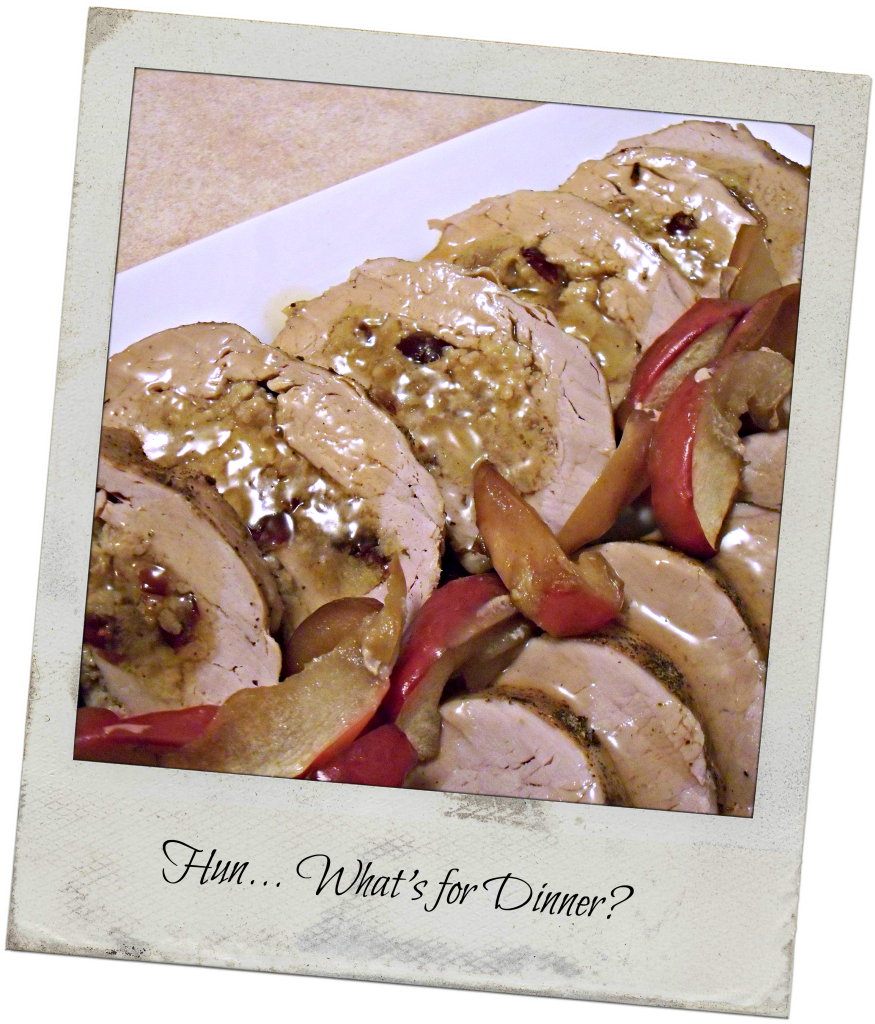 New Years Day was spent organizing the house and trying to get it back into order, after all our Holiday bustle. The ornaments have been taken off the tree and decorations have been packed up and it's time to return to our normal routines soon. We did celebrate the New Year with a fancy dinner and the kids loved that they had the chance to drink their juice from cocktail glasses. I haven't been able to get to the grocery store yet, so our dinner consisted of what I had on hand. The pork tenderloin was the star and enjoyed by us all. Tender and moist, with a melange of wonderful complex flavours in the stuffing. Slightly sweet and savory, this was a great way to change your average pork tenderloin into something spectacular.
Apple and Cornbread Stuffed Pork Tenderloin
adapted from
Pork- Be Inspired
printable version
1
pork tenderloin (about 2 pounds)
kosher salt
freshly ground black pepper
1 teaspoon
dried sage
3 medium

apples

, peeled, halved, cored and cut into 1/2-inch slices
1 1/4 cup

homemade chicken stock

, OR canned low-sodium chicken broth
1 cup

apple juice

, OR cider
Cornbread and Apple Stuffing:
1 1/2 tablespoons
olive oil
1/2 pound bulk Italian sausage
1/2 cup

onion

, finely chopped
1/4 cup

celery

, finely chopped
kosher salt
freshly ground black pepper
3/4 cup

apples

, peeled and diced 1/4-inch
1/2 teaspoon
dried sage
1 1/2 cups

homemade cornbread

, crumbled and dried OR dried cornbread stuffing mix
1/4 cup
apple juice
1/3 C dried cranberries
For stuffing, heat oil in a heavy medium skillet over medium-low heat; sausage and cook 3 minutes. Add onion, celery, sage and a pinch each of salt and pepper; cover and cook, stirring occasionally, until the vegetables are quite soft, about 10 minutes. Stir in diced apple and cook 1 minute. Transfer apple mixture to a large bowl. Stir in cornbread crumbs, dried cranberries, apple juice and egg. The mixture should be moist but not wet. Add more apple juice if the mixture seems dry. Taste for seasoning and set aside.
To butterfly the tenderloin, holding the knife blade flat, so that it's parallel to the board, make a lengthwise cut into the center of the tenderloin, stopping short of the opposite edge so that the flaps remain attached. Open the tenderloin as you would a book. Cover with plastic wrap. With a meat mallet, rolling pin or heavy pan, pound the meat to the desired thickness.
Remove plastic wrap and spread apple stuffing evenly over the meat, leaving a generous 3/4–inch border. Roll up meat jelly-roll style so that stuffing is in a spiral pattern. Tie rolled roast at 2-inch intervals with butcher's twine.
Combine 2 teaspoons salt, 1 teaspoon pepper, and remaining sage and sprinkle over roast. Lay the sliced apples on the bottom of a roasting pan just a bit larger than the roast and set the roast, fat-side up, on the apples. Put roast in the oven and cook for 10 minutes, turn the oven down to 325 degrees and roast for 30- 45 minutes. Check the internal temperature of the roast with an instant-read thermometer: The roast is done when it reaches 145 degrees. If it is not ready, continue to roast, checking the temperature every 10 minutes. When the roast is done, transfer it to a cutting board, tent loosely with foil, and let rest for at least 10 minutes while you make the sauce.
With a slotted spoon, transfer the apples in the roasting pan to a bowl and keep warm. Pour off any fat from the roasting pan, leaving the meat juices on the bottom. Put pan over medium-high heat, add apple juice and deglaze pan. Transfer to a small saucepan and add stock. Increase heat to high and bring liquid to a boil. Simmer, stirring, until reduced by half. Taste for salt and pepper. Keep the sauce warm while you carve the pork roast.
Remove twine from the roast and cut it into 1/2-inch thick slices. (If you cut the slices too thin, they will fall apart.) Arrange the pork on a serving platter. Spoon the sliced apples around the meat and pour the sauce over all.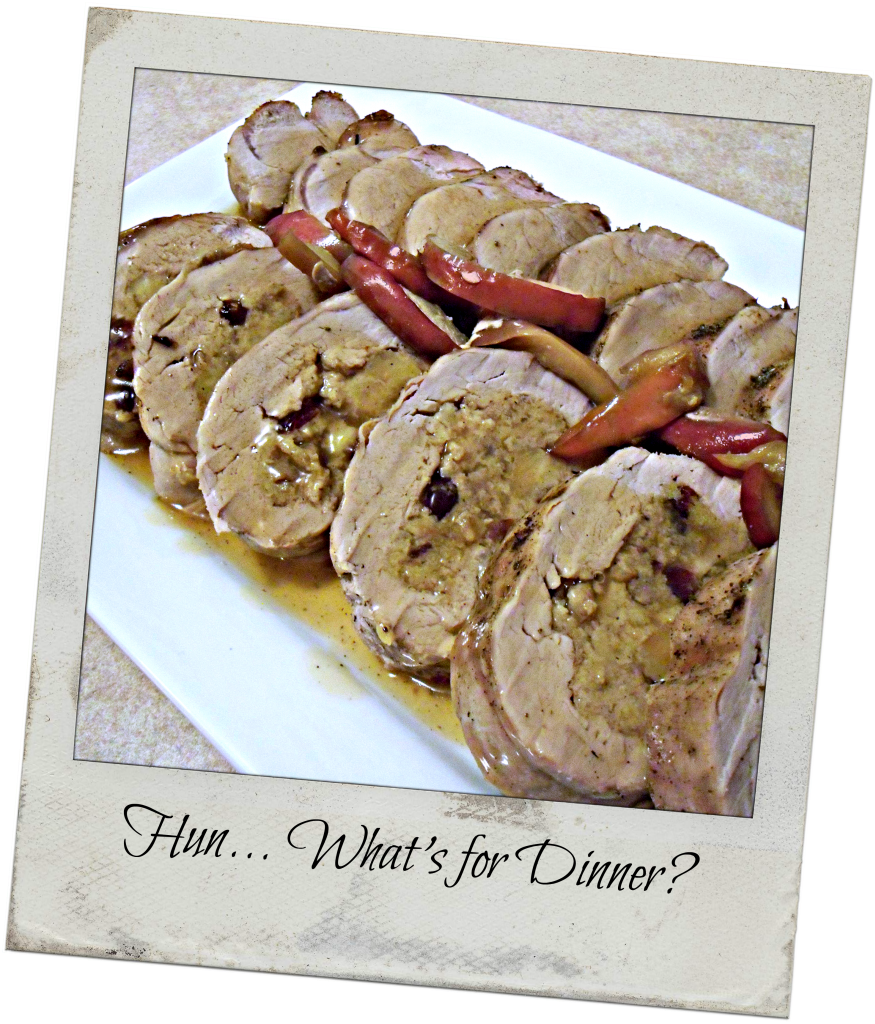 This post linked to
Hearth and Soul
Delicious Dishes
Wednesday Extravaganza
Tasty Thursday
Full Plate Thursday
Thursday Favorite Things