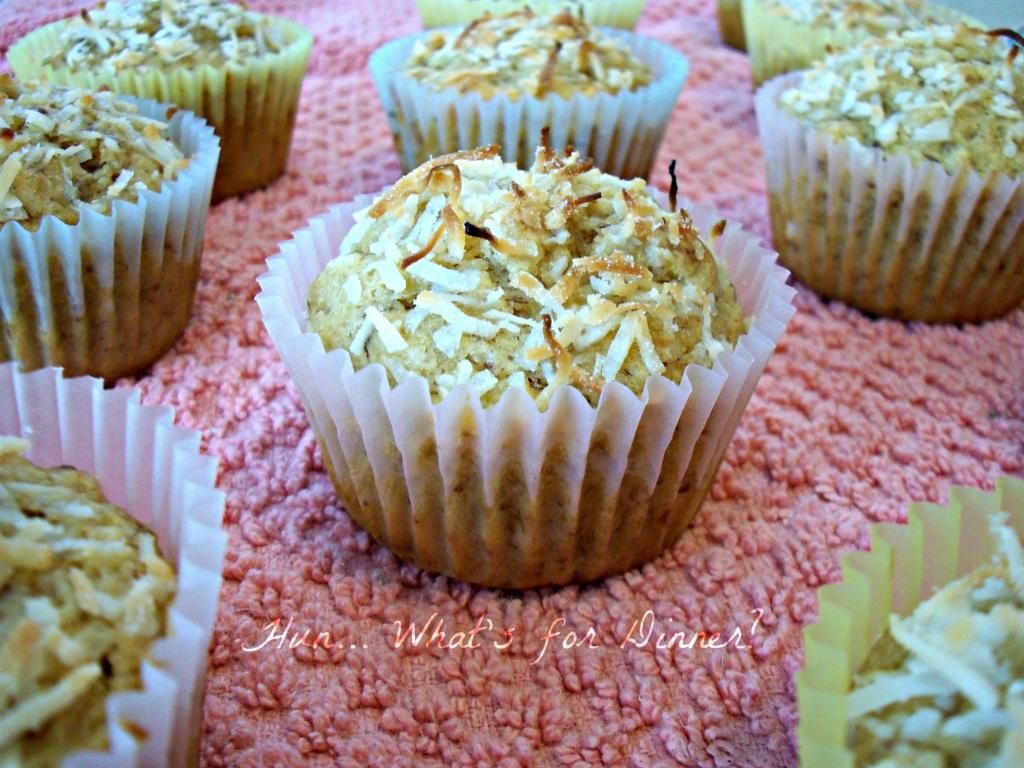 You may be seeing a lot of banana recipes, coming up on my blog. I was cleaning out the fridge/freezer and found about a dozen frozen bananas, that I throw in there (skin and all) when they become to ripe to eat. I prefer my bananas on the green side, while the kids aren't fond of bananas that have a lot of brown spots on them. Which makes our banana eating time frame, quite small from the time we bring them home from the store. So yesterday, I threw a Let's Go Bananas party on my
Facebook page
and so many people shared great looking recipes. This morning, since I was up so early, I decided to bake a few recipes, with my bananas. I chose one recipe from my FB party and decided to create a second recipe for muffins (to throw into the kids lunches, next week). I'll be sharing the second half of my baking venture, next Saturday.
For Christmas, I had bought 5 bags of coconut to bake with. I ended up using 2, so I wondered if I could pair bananas with coconut. Both are tropical fruit, so why not! These muffins are awesome!! You get all the yumminess of banana muffins, with a slight sweet hint of coconut flavour. To increase the coconut flavour, I used coconut oil as the fat in this recipe. Just one note here- **make sure all your ingredients are at room temperature. If not, your melted coconut oil will harden again**. I also used some flax seed as a binder, in this recipe, rather than eggs, since I only had a few eggs left and the kids wanted eggs for breakfast.
Coconut Banana Muffins
printable version
1 1/4 C flour
1 tsp. baking powder
1/4 tsp. salt
3/4 C shredded or flaked sweetened coconut
2 very ripe bananas, mashed
1/2 C dark brown sugar
1/3 C coconut oil, melted
1/3 C buttermilk (room temperature)
1 TBS ground flax seed
2 Tbs water
1 tsp. vanilla
additional coconut for sprinkling
Preheat oven to 375°F and line muffin cups with paper liners.
In a bowl, stir together the flours, baking powder, salt and 1/2 of coconut. In separate bowl whisk together the ground flax with 2 Tbs water. Let sit a few minutes to thicken. Whisk in the bananas, sugar, buttermilk, melted coconut oil and vanilla; add to the dry ingredients and stir just until combined .
Divide batter among lined muffin cups and sprinkle with remaining coconut. Bake for 20-25 minutes, until puffed and coconut begins to turn golden, about 25 minutes. Makes 12-14 medium muffins.
Cindy's notes:
If you do not have coconut oil, or ground flax, feel free to replace those items with 1/3 C butter/vegetable oil and 1 egg.
This post linked to
Friday Favorites
Foodie Friends Friday
Weekend Potluck
Sweets for Saturday
Gallery of Favorites
Saturday Show and Tell
Church Supper