Being a food blogger, you take A LOT of pictures of food. If you go out to eat, you can spot a true foodie, trying to find the best lighting at his/her table to take a picture of their meal. Now I myself have never done the 'take a pic of my restaurant dinner' thing, but that's probably only because I don't have a cell phone (yes I know, I need to get with IT). Sometimes the creating, plating and photography of food comes naturally and we loose track of what we've made and photographed. Which is the case with these pancakes. I had made and photographed these pancakes for a Twitter contest (which I lost BTW) and my girlfriend reminded me of the contest, this past weekend.
I really love the photos I took of these pancakes, so I decided to share them with you. The pancakes themselves were very delicious. Even more so with my addition of coconut oil, instead of regular oil. I love the wonderful coconut flavour it imparts. I know the recipe call for 2 TBS of baking powder, it's not a typo. With the oats in the batter, you need that amount to yield a nice fluffy pancake. These pancakes are full of delicious bursts of blueberries and hearty enough, to get you through till lunch time.
Extra Blueberry Pancakes
adapted from Fast Flavours by Chef Micheal Smith
printable version
1 cup Flour, whole wheat
1 cup Flour, white
1 cup Rolled Oats
2 tablespoons baking powder
1 tsp nutmeg, ground
1/2 teaspoon Salt
3 cups, frozen Blueberries
2 large Egg
2 cups Milk, 1% fat
1/4 cup Vegetable oil
2 tablespoons Sugar, brown
1 teaspoon Vanilla extract
Instructions
Preheat the skillet over medium high heat.
In a large bowl, whisk together the list of dry ingredients, up to the blueberries. Add blueberries to dry ingredients.
Crack eggs and all other ingredients into a second bowl. Whisk together and pour into dry bowl. Mix to combine.
Add a thin-film of vegetable oil to pan and drop in pancake batter. Turn once small bubbles become holes.
Cindy's notes:
I subbed in 1/4 C of melted coconut oil, in for the veg oil and used 2% milk.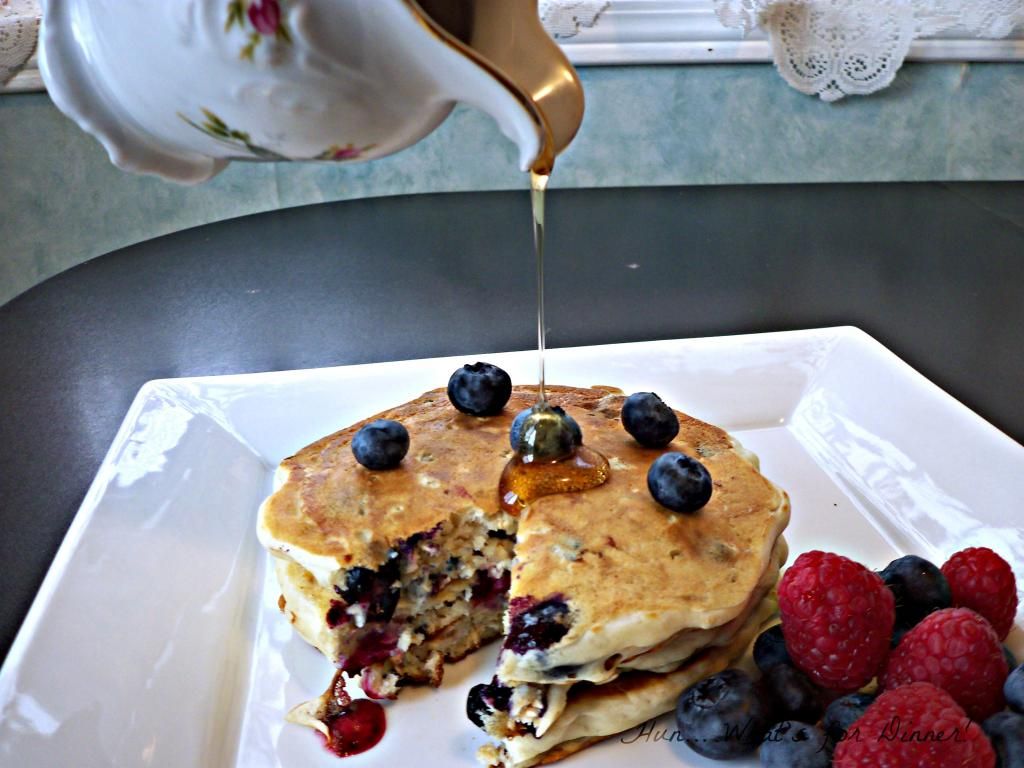 This post linked to