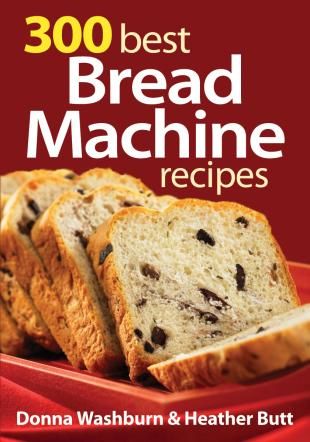 Now that the holidays are over, I have time to browse the cookbooks that I've been sent, and to review them. Most of you know that I am a cookbook junkie. I LOVE cookbooks and have well over 100 of them in our basement. I love picking through them, reading them from cover to cover, inserting sticky notes on the pages that catch my interest.
300 best Canadian Bread Machine Recipes
, has so many post it tabs in it, it was hard to decide which recipe to try first.
I decided to go with the Roasted Garlic Bread, since I recently had the most amazing Roasted Garlic foccacia and I could just imagine how this would taste. While reading the recipe, I misread 4 cloves of roasted garlic, and went ahead and roasted 4 heads of garlic. Smart hunh? Since the recipe stated to use 4-6 cloves or garlic, I decided to double it and use a whole head. As I watched the garlic being kneaded into the dough, I decided that 1 head would not be enough and I added a second head. Boy am I glad I did, because the bread was PHENOMENAL! I loved the savory sweetness of the roast garlic in the tender bread. We ate 3/4 of the loaf with dinner and I happily ate the remainder for lunch the next day; toasted and slathered with butter. This was truly bread nirvana and even the kids have requested that I make it again!
Excerpted from 300 best Canadian Bread Machine recipes by Donna Washburn & Heather Butt © 2010 Robert Rose Inc.

www.robertrose.ca

Reprinted with permission. All rights reserved: Recipe not to be reprinted without formal permission from publisher.
Roasted Garlic Bread
adapted from 300 best Canadian Bread Machine Recipes
1 1/2 C water
1/4 C skim milk powder
1 1/2 tsp salt
3 Tbs liquid honey
2 Tbs extra virgin olive oil
6 cloves roasted garlic (I used 2 heads)
3 3/4 C all purpose or bread flour
3/4 tsp bread machine or instant yeast
Measure ingredients into baking pan, in the order recommended by the manufacturer. Insert pan into the oven chamber. Select SWEET CYCLE.
This post linked to
See Ya in the Gumbo
Hearth and Soul
Tasty Tuesday
Delicious Dishes
Wednesday Extravaganza
Foodie Friend Friday