With the beautiful warm weather peeking in and out, here in Ontario, I've been in the mood for hot weather foods. Salads, grilled foods, burgers and dogs....... So this past weekend I took the time to make potato salad. I saw a German Potato Salad recipe on line
here
, and it really peeked my interest. I knew the kids would love it, because of the pickles. Hubby wasn't too impressed that I wasn't making his beloved
Potato Salad
, but he lived through it, LOL.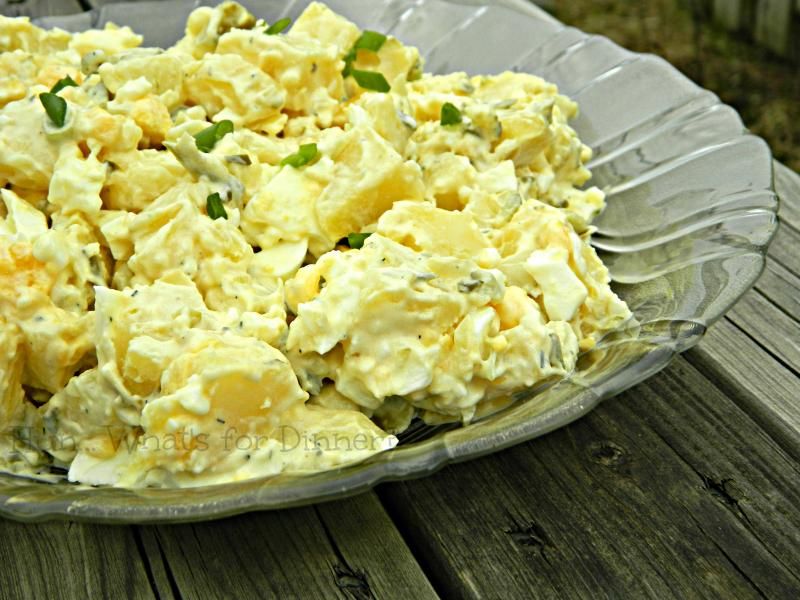 I used Yukon Gold potatoes for this and I love their buttery and earthy flavour. The dressing is tangy, salty and to kick it up a notch I added in some Pampered Chef All Purpose Dill Mix. After letting the flavours meld for a few hours in the fridge, the salad was really good!! Mr.B loved it so much, that he brought some in his lunch today. Hubby begrudgingly had some and was pleasantly surprised. It's a great twist on potato salad, which I'll be glad to incorporate into our summer repertoire.
German Potato Salad
printable version
2 lb Yukon Gold potatoes, peeled, cooked, cubed and cooled
1/4 cup mayonnaise
1/4 cup juice from dill pickles
3 green onions, chopped
2-3 dill pickles, chopped
6 eggs, hard boiled and chopped
1 tsp Pampered Chef All Purpose Dill Mix (or 2 Tbs fresh dill)
Mix mayonnaise with Dill Mix and enough pickle juice to get a nice creamy dressing. Set aside.
In a large bowl, place the cubed potatoes, chopped pickles, green onion and eggs. Season with salt and pepper. Pour dressing over all and gently toss, to combine. Refrigerate for 1 hrs, before serving. Gently stir and garnish with additional green onion.
This post linked to